Troop Deployment Not Linked To Police Cuts, Security Minister Insists
26 May 2017, 10:50 | Updated: 26 May 2017, 11:48
The deployment of soldiers on to the streets of Britain is not linked to the decline of the number of police officers, the security minister has told Nick Ferrari.
Over 900 troops are standing guard at key sites to free up armed police officers in the wake of the Manchester bombing.

Since the Coalition Government came into power in 2010, police numbers have fallen by 19,264 to 126,766.

But, speaking on LBC, Ben Wallace insisted soldiers were not being brought in to cover the cuts.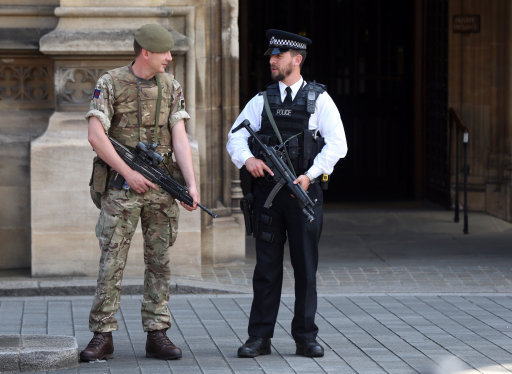 He told Nick: "When we deal with counter-terrorism we also deal with it through intelligence. We've increased funding for our intelligence services and our technical capabilities.

"[Soldiers on the streets] are not because of problems in counter-terrorism policing.

"If you ask the head of [Specialist Operations] and you say 'have you got the police officers required to deal with this incident', his answer is unequivocally yes."
In 2015, a former police officer warned the then Home Secretary, Theresa May, that police cuts would lead to soldiers on the streets.

Damian O'Reilly made the statement at the Police Federation Conference, but Mrs May dismissed the comments as "scaremongering".

Find out more about that exchange here.