Former Brussels Diplomat: Theresa May Ought To Be Congratulated
8 December 2017, 07:28 | Updated: 8 December 2017, 08:47
Theresa May should be congratulated for pulling off a draft agreement on the first phase of Brexit talks, a former senior diplomat in Brussels has told LBC.
Sir Andrew Cahn said it would have not have been "easy" position for any UK politician to have reached.
He was speaking moments after the European Commission President Jean-Claude Juncker said "sufficient progress" had been.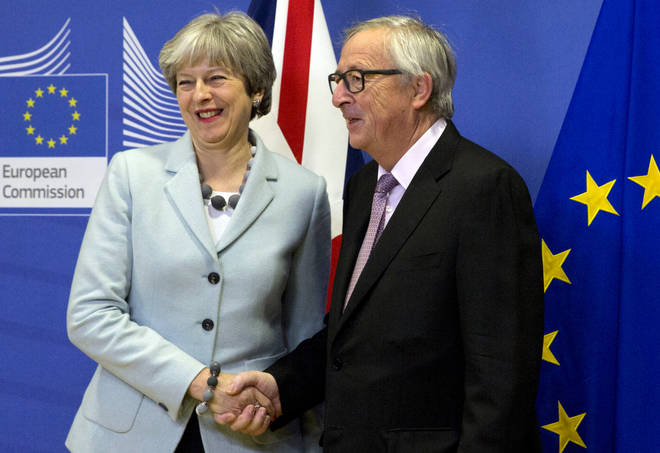 It followed overnight talks between the UK and EU over the Irish border issue.
The Prime Minister arrived in Brussels early on Friday morning.
In a joint press conference, Mrs May said there would be no hard border and the Good Friday Agreement would be upheld.
"It hasn't been easy for either side," she said.
Giving his reaction, Sir Andrew, who spent five years in charge of the government department UK Trade & Investment said: "I don't usually say this but we should congratulate the negotiators on both sides and we should congratulate Theresa May for pulling this deal off.
"It's not an easy one and they did it - I think in practical terms they had it on Monday and they've had to find few a wrinkles to satisfy the DUP."
Nigel Farage, however, was less compliemntary as he told Nick: "What have we got from this? We have conceded a vast amount of money which the House of Lords committee themselves say we simply have no obligations to pay."
He added: "We will stay part of the European Court of Justice for a further eight years which is one of the key reasons people actually voted Brexit.
"And in terms in Northern Ireland, well, it looks a bit foggy, but given we're going into a transition phase we will not be able to sign trade deals with any part of the world, we will not be able to make our regulations more competitive until at least the middle of 2021.
"But of course in reality it means this transition phase, but which I mean membership of the EU but not in name, is going to go on until the next general election."