Gulf Veteran Who Applied For 400 Jobs Is Still Struggling To Find Work
26 September 2017, 13:25
Wayne Taylor served 25 years in the military, including both Gulf Wars. But after applying for 400 jobs, he is still struggling to find work.
At the height of his service, the former soldier had up to 100 men and women under his command.
Nowadays he has been out of full-time work since 2015 and things have become so bad, he has taken matters into his own hands by standing outside a business park with a sign pleading for a job.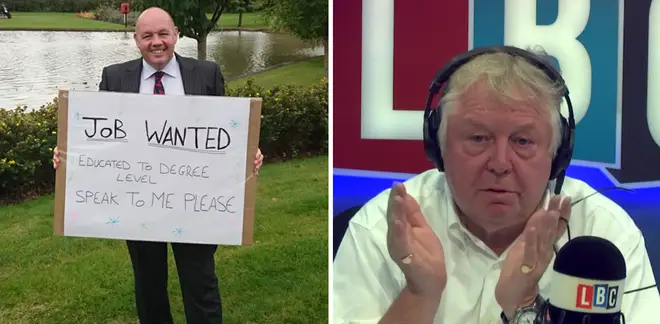 Speaking to Nick Ferrari, Mr Taylor described himself as "reliable, trustworthy and hardworking".
He said he had applied for a variety roles ranging from logistics, warehousing to team leading - but nothing had really ever come to fruition, apart from a few minimum wage roles.
"I'm not a job snob," he told LBC. "I want to get in a job that I can see where there would be progression.
"I don't expect to go in at the top because that's not going to happen - I make that clear."
Mr Taylor says he handed out his details to a "small number of people" who approached him outside the Chester Business Park.
He stood there holding a handmade sign which read: "Job wanted. Educated to degree level. Speak to me please".
Since the story made national news coverage, he said it has become "hectic" with people getting in touch.
He told Nick he now has dreams of taking over from Lord Sugar, adding: "I'm not going to under sell myself, but I just want to get into work."
Listen to the interview above.