HS2 worker shares hilarious tale of training with 'D-class actors' and five staff for one traffic light
27 January 2023, 11:54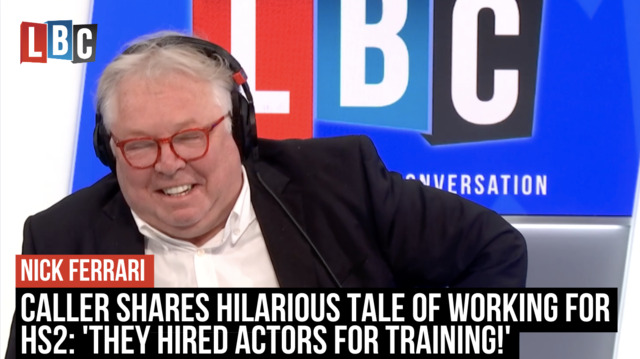 Caller shares shocking, and hilarious tale of working for HS2: 'They hired actors for training!'
After the news that HS2 may never reach central London and could be scaled down or stopped altogether, this traffic marshal told Nick Ferrari of the compulsory training workers on HS2 sites have to undertake, involving "role play".
A HS2 traffic marshall has told Nick Ferrari at Breakfast on LBC an amusing story of "D-class actors" helping to train wardens in scenarios of what could happen if the high-speed railway were in service.
This call came after the news that HS2 may never reach central London and could be discontinued altogether, as it "now costs more to build than the value of the benefits it will deliver", according to former Number 10 Transport Adviser Andrew ­Gilligan.
READ MORE: HS2 may never reach central London and could be scrapped entirely amid spiralling costs
Michael in Brackley said: "You have to go on training, a full day" he explained. "It's role-play scenarios, they've employed actors in certain scenarios."
"Where's the train, oh my God I can't see the train!" Nick laughed going along with it.
The caller described them as "D-class actors", much to Nick's amusement.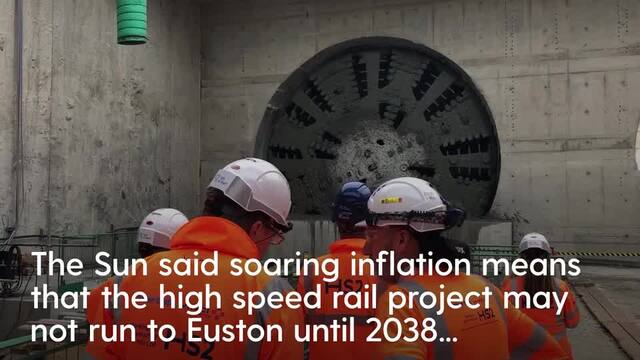 Government refuses to deny reports HS2 may not run to central London
Some of the scenarios included a child's death as a result of being injured on site, and what would happen if the family sued HS2.
Michael added that ministers arrived in two buses from London on one occasion, were given "brand new hard hats", and spent "half an hour to look at a bridge that they were going to demolish".
After they hung up their new uniforms for the visit and left, the caller said "all the guys were scrambling to get them, the boots, the bags and everything", and Nich laughed once against.
READ MORE: 'Break down and you're a sitting duck': Drivers warned over 'extremely dangerous' smart motorway outage this weekend
He also said: "They gave me a work station with four of the guys to control a traffic light."
"Sorry, five people to control a traffic light?" Nick asked in disbelief, which he confirmed.
He said: "It's unbelievable Nick", adding he was making £700 a week.
"Also if you drive around Northamptonshire you'll see planks sitting in fields for weeks and weeks upon end…I stood there one day, they were going to put a new road in…seven times they've put that road down, they've got it wrong every time.", he added.
"Oh my God", Nick replied, aghast.