Jamie Oliver Says Tough Restrictions On EU Workers After Brexit Won't Happen
8 September 2017, 11:50
Jamie Oliver has told LBC he believes tough Brexit proposals on EU migration will not be implemented because it would be "self-harm" on British firms which rely heavily on continental workers.
Earlier this week a government document was leaked which showed plans to slash unskilled migration on the day Britain leaves the bloc.
Under the draft proposal, businesses would have to recruit locally unless they could prove an "economic need" to employ EU citizens.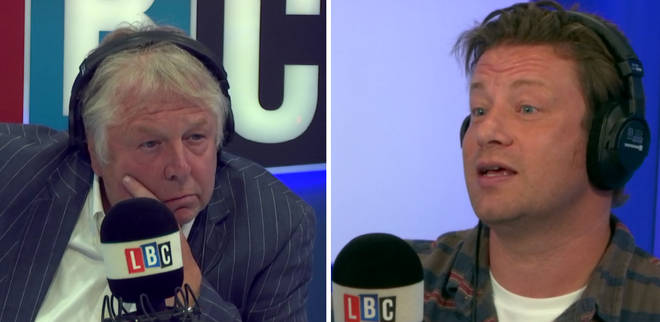 Mr Oliver currently recruits 5,000 workers in Britain, 60 per cent of those are from the continent.
He told Nick Ferrari he had been watching the Brexit negotiations in "amazement" - but questioned whether to the vote to Leave was ever about European workers.
The Essex chef said: "Most farms where you pick food, most restaurants, hotels and hospitals employ a very large proportion of European workers and we would all close down next week if we didn't have them.
"Part of me thinks it ain't all going to close down, farms, restaurants, hotels and the hospitals most importantly, they're not going to close down."
Mr Oliver continued: "So what we think might happen can't happen and then I guess it comes about the rules of the game.
"I'm watching in amazement really, but the truth is nothing is going to happen because those businesses will not close down."