Michael Bloomberg: Brexit Will Mean Fewer Jobs For Those Who Voted Leave
25 October 2017, 07:15
Brexit will mean fewer jobs in the UK and hurt those who voted to leave the EU the most, Michael Bloomberg has told LBC.
The billionaire businessmen was speaking to Nick Ferrari as he opened Bloomberg's new European headquarters in the City of London.
The former Mayor of New York said Britain's decision to leave the bloc was "not the best thing" for the country.
However, he insisted his company, Bloomberg, would continue to have an "enormous commitment" to London.
He said: "I think London and New York are the two financial centres and it's really hard to see the losing that mantle."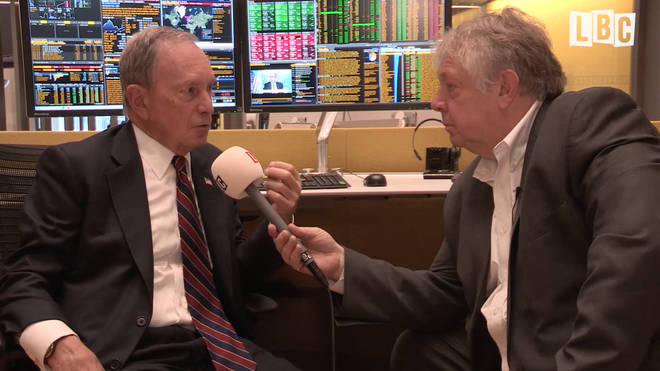 But the businessman warned: "Brexit for the UK means there's going to be a lot fewer jobs, probably for the people that voted for Brexit.
"In America, there's going to be a lot fewer jobs for the people who voted for Donald Trump because of his policies.
"You think that's good for you, it really isn't. In this world you have to be able to sell your products around the world and to be able to get ideas and labour from around the world."
You can watch Nick Ferrari's full interview with Michael Bloomberg below: