Nick Ferrari: How The "Deplorables" Took Back USA From The Establishment
10 November 2016, 07:37 | Updated: 10 November 2016, 08:13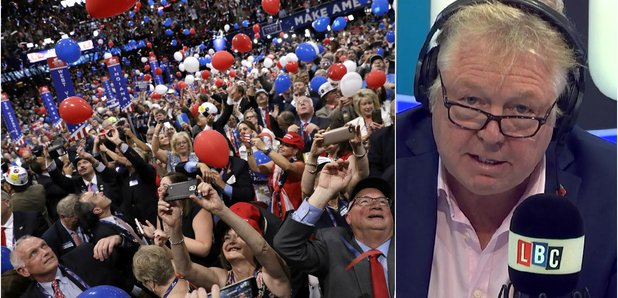 This is Nick Ferrari's brilliant polemic on how the "deplorables" took back the USA from the Clinton and Bush dynasties.
Hillary Clinton labelled Donald Trump supporters "a basket of deplorables". Well it turn out there are over 59million deplorables in the United States.
Nick Ferrari told his LBC listeners that the voters were fed up with the entitlement of the Clintons, who felt that it was "Hillary's turn" to be President.
He said: "58million Americans were "deplorable" in Hillary Clinton's book. Do you realise what they actually voted for?
"They'd already had eight years of Clinton. Jeb Bush was the next Bush who was meant to come long, we've had Dad, we've had son, actually was brothers turn as well.
"These hideous families, these hideous dynasties, who have this sense of entitlement that they can just become the next president. Alright it's Dubya's turn, now it's Jeb's turn, oh it's Hillary's turn.
"And those 58million deplorables, all they have seen in their lives is they still haven't got work or they're earning less now than they did in 1999. Many Americans are earning less now than they did in 1999.
"So for the love of God, why would you vote for more of that? So what's the choice. Another Clinton? OK let's give her another four, probably eight years. Why?
"And that is the alienation it's been. And everyone says it's like Brexit. There is a degree because because Donald Trump did tap into that sense of rejection, that alienation and that destruction of the smug elite class who think they are literally born to rule. Bill Clinton said "It's her turn".
"No it's not. It's the deplorables' turn to actually take back their country.
"What it holds for America, nobody knows but they're pretty smart people over there. Looking at some of the headlines around the world, which will bring in a minute or two, you think they're on the verge of Armageddon. I really don't see it that way."