Nick Ferrari Lays Into Millennials' Meltdown Over KFC Closures
21 February 2018, 08:35
This is Nick Ferrari's hilarious rant at youngsters who have become hysterical after KFC ran out of chicken.
Around 700 of KFC's 890 outlets have been closed after they changed suppliers to DHL, who have had problems with their new distribution centre.
- "I know where the chicken is": Lorry driver reveals what's gone wrong at KFC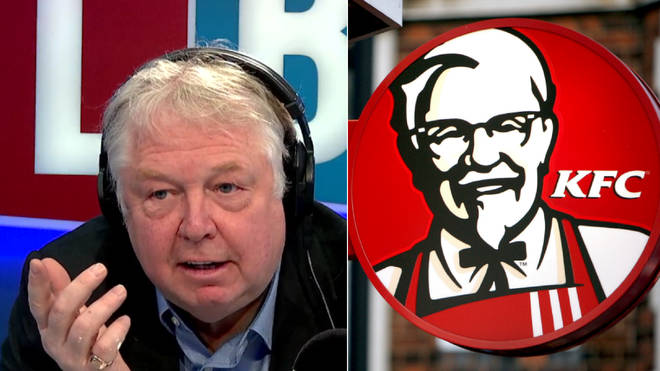 The Met Police even tweeted to warn people to stop phoning them to complain about the lack of chicken at KFC.
Please do not contact us about the #KFCCrisis - it is not a police matter if your favourite eatery is not serving the menu that you desire.

— Tower Hamlets MPS (@MPSTowerHam) February 20, 2018
And Nick Ferrari told people to get a grip. He said: "This was a nation in my parents' day that actually went through World War Two, that when a siren went off, people and huddled in Underground Stations and air raid shelters.
"Now there is widespread panic and police are called if we run out of supplies of chicken. Yes, Britain in hysterical meltdown because you can't get fried chicken.
"I had a drive yesterday. There's something called Morley's Fried Chicken in the area of London in which I live. I think there's something called Chicken Cottage. Other suppliers are available.
"And in London, where tragically we have got a few other things going on."