Brexiteers Happy For UK To Go Into Recession In Order To Leave EU
3 September 2018, 07:27 | Updated: 3 September 2018, 13:23
People who voted for Brexit would be happy to leave the EU, even if it means food and travel prices to rocket and the UK goes into recession, an exclusive LBC poll reveals.
The survey for LBC by Deltapoll shows that 70% of leavers are happy to leave the EU even if it means longer queues at ports and airports border control.
And more than want to leave even if it means the cost of food rises significantly (54%) or the UK goes in to recession (51%).
Meanwhile, more leavers believe Boris Johnson would deliver a 'Real Brexit' compared to Theresa May. 39% would prefer the former Foreign Secretary, while only 30% of Brexiteers want Theresa May in charge.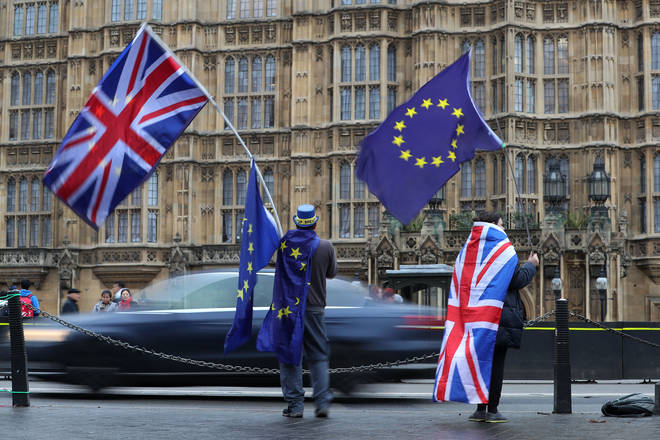 The findings will heap pressure on the Prime Minister, especially after Mr Johnson came out firing in his Daily Telegraph column this morning as reports of a leadership challenge increase.
He compared the Brexit negotiations to a rigged wrestling match that only the EU can win, saying under the plans the UK will get nothing from Brussels.
LBC's Political Editor Theo Usherwood explained the poll shows how little opinion has changed on the EU. Speaking to Nick Ferrari, he said: "What our poll shows is that opinion appears to be set. Very little seems to change the mind of leave voters.
"The Prime Minister might be saying that Brexit means Brexit and we are scratching our heads wondering what she means. But voters have a very clear idea in their own minds.
"65% say it means full control of our borders. 63% says it means no more payments to the European Union.
"That presents a problem, because the Prime Minister has already ruled both of those out. We know that negotiations have taken place with regards to control of our borders and of course we're paying that £39billion to the EU as part of the divorce bill."
One other interesting element of the poll - both Conservative and Labour leave voters would rather leave the European Union than for their party to be in power.