Nick's Unmissable Reaction To Vegan Who Won't Touch £5 Notes
30 November 2016, 10:54 | Updated: 1 December 2016, 09:47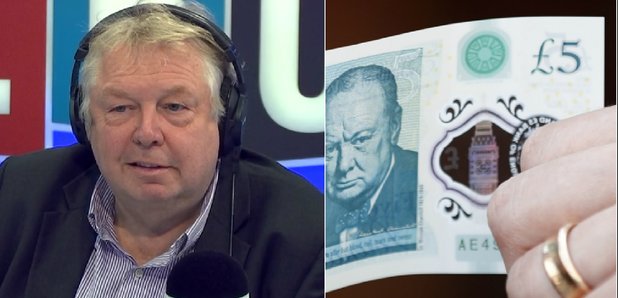 Doug Maw is furious that the new £5 banknote contains rendered animal fat. Nick Ferrari wonders if there isn't more important things to worry about.
- Nick Ferrari Eats New Fiver Amid Animal Fat Row

More than 90,000 people have now signed Doug's petition but it's fair to say Nick was unimpressed at the idea that the new fivers might be withdrawn to avoid causing offence.
"All you have to do is touch the note, I'm not asking you to eat it!"
"The point is," said Maw "We have no choice in this."
Nick: "You can't wind back the clock. Have you any idea how much it would cost?
"With all the problems we have in the world, is it that big a deal, this £5 note? Does it really stop you sleeping?"
Maw replied that a lot of people have already asked him that, adding that he signs "a lot of petitions". Nick's response? "I thought you might!"