Irate Woman Calls Airline Worker A "Rapist" And Threatens She Has A Gun
8 January 2019, 14:40 | Updated: 28 October 2019, 15:26
A woman screamed "rapist" at an airline worker before claiming she had a gun in a bizarre rant inside an airport.
The incident took place at Fort Lauderdale-Hollywood International Airport on Sunday - which had suffered 10-hours of technical issues.
The woman was denied boarding after "indications of intoxication and become disruptive," according to airline JetBlue.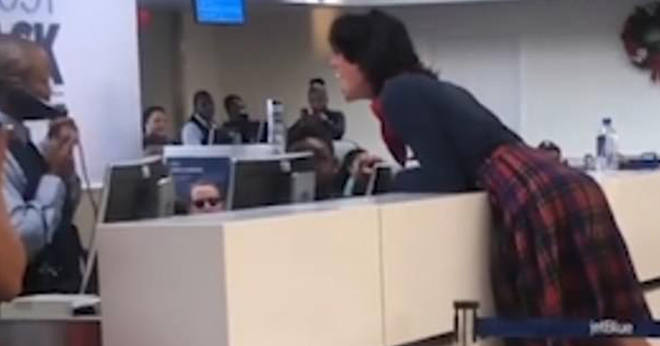 Video of the incident has gone viral after it was uploaded to Instagram.
It shows the woman hoisting herself up onto the counter while screaming at a worker.
"Who does that to a woman like me?" she shouted, before adding: "Get me out of here."
The woman went on to brand the male star member a "rapist" before threatening she had a gun and storming off.
In statement, the airliner said: "On January 6, crew members at Fort Lauderdale-Hollywood International Airport requested assistance from local law enforcement after a customer was denied boarding for indications of intoxication and became disruptive."