Analysis: the political problem of Huawei
27 January 2020, 11:46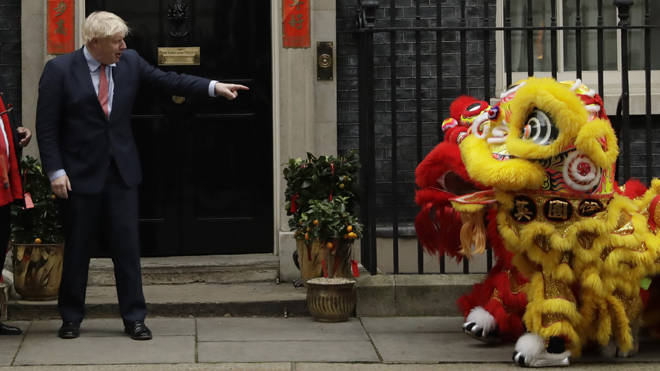 Huawei presents Boris Johnson with a political problem.
The Prime Minister can keep the status quo and allow the Chinese company to build non-core parts of the country's 5G network.
But that risks upsetting the United States, which has insisted on keeping the firm out of its technology infrastructure over its links to the Chinese government, and the security concerns that stem from those links.
Like Australia, Canada, and New Zealand, the UK has a deal with the US to share intelligence through the Five Eyes agreement.
READ MORE: US warns Britain against China's Huawei 5G network
The fear in the Pentagon is that our intelligence is compromised by the Huawei deal, and therefore the US is not prepared to put its own intelligence in the same jeopardy by sharing it with the UK if there is the potential in the future for that information to be accessed by the Chinese.
Indeed, last night Secretary of State Mike Pompeo tweeted his support for an article written by the Tory MP Tom Tugendhadt, who wrote in a Sunday newspaper that "only nations able to protect their data will be sovereign".
Pompeo arrives in London on Wednesday to meet with Boris Johnson and foreign secretary Dominic Raab to discuss ways "to deepen trade ties". But that meeting will come after the Prime Minister convenes his National Security Council on Tuesday to make a final decision on whether to go ahead with the Huawei deal.
And that's where things could get difficult for the PM because from next week he can begin detailed discussions about a trade deal with the US as we will have left the European Union on Friday.
Number 10 has already indicated that it would want to press ahead with those talks. The question is: can the PM risk upsetting the Americans now and starting those discussions on the wrong foot?
Of course, Mr Johnson could decide that isn't a risk worth taking and axe Huawei from the 5G project.
But that doesn't come without its own consequences. Firstly, there is the cost of finding a new provider and the delays that will inevitably follow. That's put at £7 billion.
And then there is the political risk for the Prime Minister that he is seen here in the UK of being Donald Trump's puppet, putting the concerns of the White House ahead of the advice of his own security advisers who tell him that while the risk Huawei poses can be managed because the company doesn't supply core parts of the network, the risk of it being compromised are outweighed by what the Huawei has to offer.
Either way, it is an unenviable choice and one that is likely to prompt political fall-out, whatever the Prime Minister decides.