Boris Johnson says UK blames Iran for Saudi oil attacks
23 September 2019, 08:47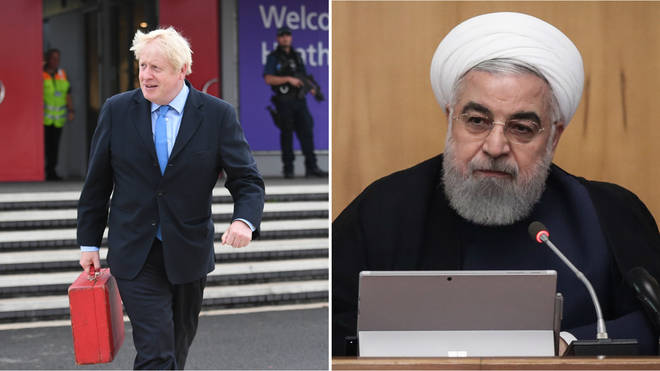 Boris Johnson says the UK believes Iran is behind a series of drone and cruise missile strikes on Saudi oil installations, and has refused to rule out the possibility of a military response.
Speaking to journalists while en route to New York for the United Nations General Assembly, the prime minister said there was a "very high degree of probability" that Iran was behind the attacks.
"We think it is very likely indeed that Iran was indeed responsible for using both [unmanned aerial vehicles], both drones and cruise missiles," he said.
Mr Johnson went on to say he would work with Europe, Saudi Arabia and the US to "construct a response that tries to de-escalate tensions," but did not rule out the possibility of a military intervention.
He added: "We will consider in what way we could be useful if asked, and depending on what the exact plan is."
The prime minister's comments came after the US and Saudi Arabia had already attributed blame to Iran, having dismissed earlier claims of responsibility from Yemen's Houthi movement.
Iran has denied any involvement.
On Tuesday, Mr Johnson is due to meet Iranian President Hassan Rouhani in New York to discuss the country's "actions in the region".
He said he will also raise the topic of Nazanin Zaghari-Ratcliffe, the British-Iranian mother jailed in Tehran, and other detainees.
Mrs Zaghari-Ratcliffe is currently serving a five-year sentence for charges of espionage, which she has repeatedly denied.
"In the course of my conversation with President Rouhani, I will not only be discussing Iran's actions in the region, but also the need to release not just Nazanin, but others who in our view are being held illegally and unfairly in Tehran," Mr Johnson said.