Coronavirus: How to make the most of working from home
10 March 2020, 14:09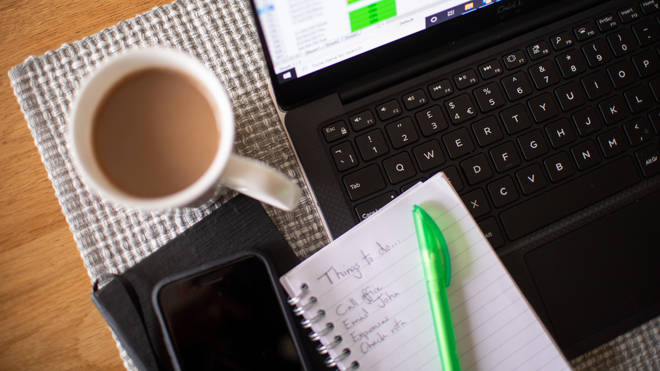 Outbreaks of coronavirus have prompted companies to prepare their employees to work from home should they need to self-isolate.
So - how can you make the most of a remote-working situation?
We've looked at what the top tips are from people who work regularly from home...
Maintain a routine
It's an all too tempting option to wake up, roll over in bed and open your laptop when you're remote, which seems like you're living the dream - right?
Wrong, says Jayson Phillips, a manager working remotely for an engineering organisation, who points out that this behaviour leads to blurred lines between your work and personal life.
To counter this, he says, set boundaries for yourself by trying to incorporate a close-to-normal routine before you would usually head to the office - get up, shower, get dressed, have breakfast.
READ MORE: 'The virus is closing in': Holidaymakers trapped as airlines cancel all Italy flights
I've been working remote, managing teams/projects for a couple of years now (with a brief stint back in an office at a hyper growth startup), and @kf's tweet re: remote employees taking sick days (please do!) reminds me of a few tips I have...

— Jayson J. Phillips (@_jjphillips) January 12, 2020
READ MORE: [Live] Italy on lockdown as UK peak expected 'within 10 to 14 days'
The only difference with this is that you would eventually commute to your workspace inside your home, rather than an external office.
"These items in succession allow me to signal to myself that my personal time, much like a commute, is coming to a close, and I'm ready to connect and dive in on my day," Mr Phillips said.
"When I'm particularly consistent at this, I've had time to process my thoughts and physically let myself know that it's go time."
Don't allow your bed to become your desk
Wired magazine goes further to rule out anything "that lets you recline, if you can help it."
The idea, is that it's important to make clear boundaries about where in your home you work, owing back to the previous point about the blurred lines between personal and professional life.
"Where you actually set up shop is entirely up to you," the magazine said.
"Maybe you have a dedicated office space with a desktop and a view. Sounds nice. If you don't, that's also fine; I usually work on my laptop at a kitchen counter.
"The point here is to clearly define the part of your house where work happens.
"That makes it more likely that you'll actually get things done when you're there, but just as importantly might help you disconnect when you're not.
"Remember that when you work from home you're always at home - but you're also always at work."
Set work hours and have a distinct work space. When you're done working for the day, leave the space, and leave your computer there. Do not check email on your phone after hours, or if you do, do not respond until the morning unless it's <urgent>.

— Rebecca Eisenberg (@ryeisenberg) March 8, 2020
Leave the house in the morning to go to work, walk round the block and then come back into your house and settle down to work. Helps make the mental transition.

— Henry Dimbleby (@HenryDimbleby) March 8, 2020
Streamline communication
Maintaining the theme of creating boundaries is the idea of how you communicate during your work day - and after it.
During work hours, you develop a "low-fidelity relationship" with your colleagues when you aren't face-to-face, said Steve Smith, a remote developer from the US.
He advocates for remote workers to turn on their cameras in group chats, so you can still be seen and heard.
"Video conferencing is not as high fidelity as in person communication, but it's still way better than voice - or text-only communication.
"You have a webcam (or you can get one easily) - use it."
And in the event of no webcam - or if it isn't feasible for your line of work - instant messengers are in abundance, and can still be used to maintain a presence.
READ MORE: 'Many thousands' will become infected with Covid-19
This also applies to communication inside the home, especially if you are isolated with others.
"Come up with ways to communicate to family that you're not available during certain critical times (signs, a timer, a closed door)," said Dr Jacquelyn Gill, an associate professor at University of Maine.
Journalist Rebecca Eisenberg echoed this sentiment, adding: "Make sure your friends/family/roommates understand that just because you're home doesn't mean you can talk or hang out during work hours.
"Talk to them before this becomes an issue."
Ms Eisenberg also stressed the importance of being alert to communication after hours, when work calls can slowly edge in.
She said: "Do not check your email on your phone after hours, or if you do, do not respond until the morning unless it's urgent.
Take breaks
Take breaks, move around regularly, and go outside for short walks if you can, is the advice echoed by many remote workers online.
Mr Philips emphasised that where you can't walk by someone's desk to talk, or move to a meeting room, it is necessary to replace this with something else.
He said: "When working remote, maybe even moreso from home, it is easy to get into a zone.
"Getting in the zone at home or remote, this can take a lot more discipline. Breaking away from the desk is probably one challenge any 'desk' work professional can relate to dealing with.
"It is important, however, for our physical and mental health, to take breaks from the computer."
It can be tough to stay productive when working from home/on your own, but here's something that works for me: I schedule everything, including lunch, a coffee break, and an afternoon walk, on my calendar. (1/6)

— sophy wong (@sophywong) March 9, 2020
These are just a couple of the recurring pieces of advice from people wanting to share their experiences of working remotely.
They can be tied in with the safety advice from the government, which has been published in the event of necessary isolation due to coronavirus.