Donald Trump accused of 'flipping middle finger' at astronaut who corrected him
22 October 2019, 08:41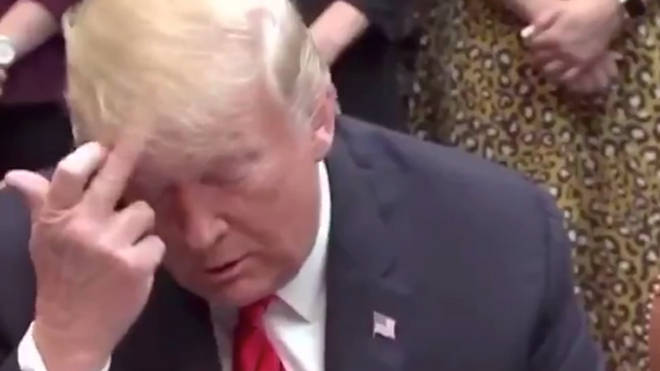 Donald Trump has been accused of making an offensive gesture towards a female astronaut who corrected him.
The US president was conducting a video interview with astronauts Jessica Meir and Christina Koch after they became the first pair to complete an all-female spacewalk outside of the craft.
Mr Trump however, congratulated the pair for being the 'first ever female spacewalker.'
Mr Trump said: "You are amazing people; they're conducting the first ever female spacewalk to replace an exterior part of the space station."
When gently corrected by one of the astronauts about how other women have spacewalked, Donald Trump uses his middle finger to "fix" his hair.

How is this even real life? pic.twitter.com/9bnj7XfY1m

— Shannon Watts (@shannonrwatts) October 21, 2019
Ms Meir spoke up to correct him, and Mr Trump is then seen scratching his forehead with a middle finger in what has been described as an offensive gesture.
She replied to Mr Trump: "We don't want to take too much credit because there have been many other female spacewalker before.
"This is the first time that there's been two women outside at the same time."
Shannon Watts posted the footage online, writing: 'When gently corrected by one of the astronauts about how other women have spacewalked, Donald Trump uses his middle finger to "fix" his hair. How is this even real life?'