Donald Trump says Harvey Weinstein conviction 'great thing for women'
25 February 2020, 16:02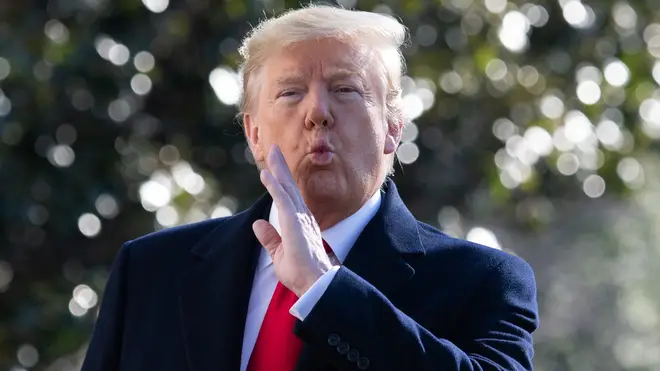 Donald Trump said Harvey Weinstein's conviction for rape and sexual assault is a "great thing" for women.
Mr Trump said the conviction "sends a very strong message" for the #MeToo movement.
Speaking at a news conference in New Delhi on Tuesday at the end of a two-day trip to India, the US president said he is not a "fan" of disgraced movie mogul Mr Weinstein.
A New York jury convicted the former Hollywood producer on Monday after Weinstein had denied allegations of non-consensual sex.
Prosecutors have hailed Weinstein's conviction as a pivotal moment that could change the way the legal system views a type of sexual assault case historically considered difficult to prove.
Most of the women who testified against Weinstein stayed in contact with him - and sometimes had consensual sexual encounters with him - after his alleged attacks. None promptly reported his crimes, and there was little physical evidence to bolster their stories.
The jury convicted Weinstein anyway, finding the producer guilty of raping one woman in 2013 and sexually assaulting another in 2006.
Manhattan district attorney Cyrus Vance Jr said after the verdict was announced: "This is a new day. Rape is rape whether the survivor reports within an hour, within a year, or perhaps never."
But the president himself has been accused of sexually inappropriate behaviour by more than a dozen women when he was a private citizen.
He was infamously recorded bragging to TV personality Billy Bush of Access Hollywood in 2016 about his treatment of women, saying: "When you're a star, they let you do it. You can do anything.
"Grab 'em by the pussy. You can do anything."
Also, Elle magazine columnist E Jean Carroll accused the president of raping her in a dressing room more than 20 years ago in an upscale New York department store.
She sued him for defamation when he called her a liar and claimed she was fired by Elle because of Mr Trump's insults against her.
The president made no mention of any of the allegations during his condemnation against Weinstein.
However, he has in the past expressed empathy or given benefit of the doubt to allies and appointees accused of sexual misconduct.
Writing on Twitter in February 2018, Mr Trump said: "Peoples lives are being shattered and destroyed by a mere allegation."
It came after an aide was accused by former wives of abuse.
Mr Trump has denied all the allegations made against him.