French police fire tear gas at 'yellow vest' protesters
21 September 2019, 21:54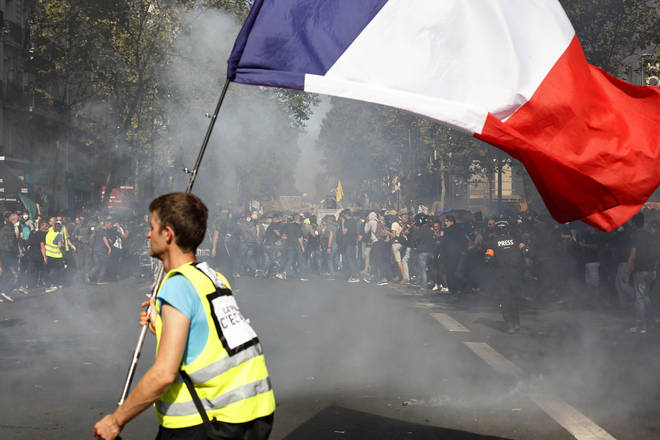 Paris police arrested dozens of demonstrators during a revival of the "yellow vest" protests on a day of dissent in the French capital.
Activists opposed to French President Emmanuel Macron's economic policies clashed with police in Paris in a resurgence of the "gilet jaunes" movement.
French officers responded by firing tear gas and sting-ball grenades at a few hundred demonstrators who attempted to gather in central areas where protests were banned.
Nearly 7,000 police, some in full riot gear, were deployed around the presidential palace, government and parliament buildings, the Champs-Elysees, the Eiffel Tower and Notre Dame Cathedral.
At least 39 were arrested during the "yellow vest" protests, but most activists were not wearing the iconic fluorescent jackets whilst taking part.
Dozens of masked and hooded individuals dressed in black infiltrated a climate protest by breaking windows at a bank and shops and setting fire to a makeshift barricade in the street.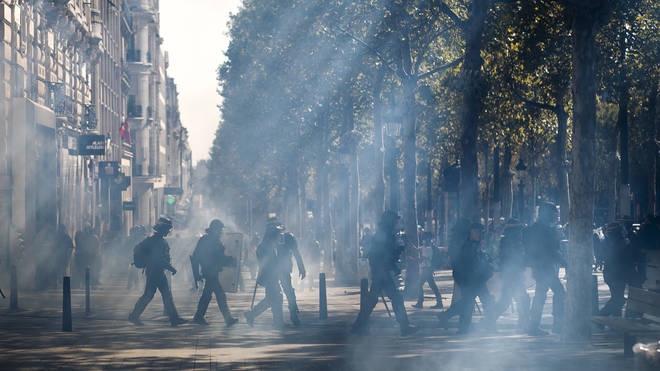 The news comes as environmental activists and far-left union workers also took to the streets of France on the same day of its annual heritage weekend.
Climate activists in Paris demanded more action from both the government and from companies in order to reduce emissions.
They also marched to raise awareness of fires in the Amazon rainforest and melting ice caps in the Arctic.
The hard-left Workers Force union protested against retirement reform amid concerns it will require people to work longer and reduce pensions.
A total of 163 arrests were made and 400 fines issued on what was a chaotic day in the French capital.
The heritage weekend had Parisians and tourists lining up to visit landmarks and government buildings, including the Elysee presidential palace and Mr Macron's office.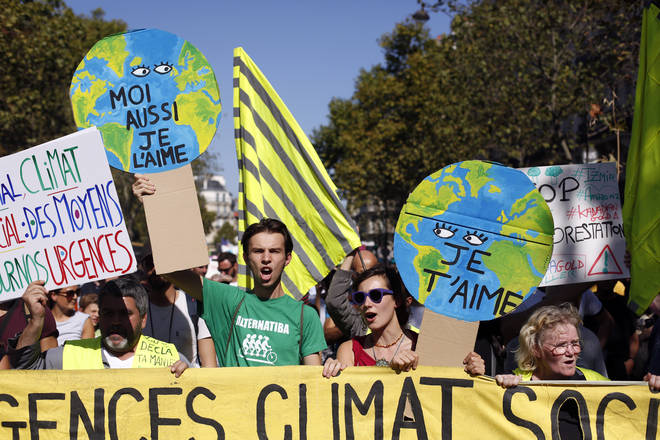 However, the public could only access the Elysee after pre-registering and passing security checks.
Some monuments, including the Arc de Triomphe, which suffered damage during a yellow vest protest in December, were kept closed to the public.
Authorities said they needed police to focus on the protests rather than securing the sites.
The yellow vest movement emerged in November 2018 and swelled into weekly protests in Paris and other French cities, leading to several violent clashes between protesters and police.
However the group's activities reduced this summer after Mr Macron made multiple concessions to the movement, including a €10bn package of measures to boost purchasing power.
But anger is now mounting again over his plans to overhaul France's costly, complicated pension system.