Hong Kong protestor shot by police charged with rioting
3 October 2019, 09:26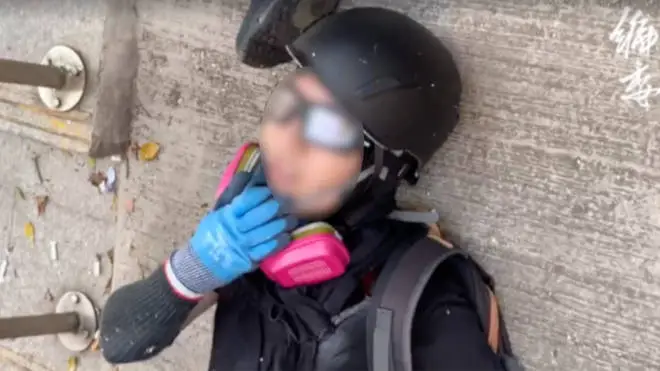 A Hong Kong teenager who was shot by police while taking part in an anti-China rally has been charged with rioting and assaulting an officer.
Tsang Chi-kin,18, was hit in the left shoulder on Tuesday after an officer fired his weapon at close range and is still in a critical condition in hospital.
Pro-democracy activists had staged a "Day of Grief" to defy Communist rule during China's 70th National Day celebrations.
Police had banned any demonstrations, but around 100,000 people took the the streets dressed in black to "mourn" the "death of Hong Kong's future".
She continued: "The round hit an 18-year-old, and the area near his left shoulder was injured, and he was conscious when taken to Princess Margaret Hospital.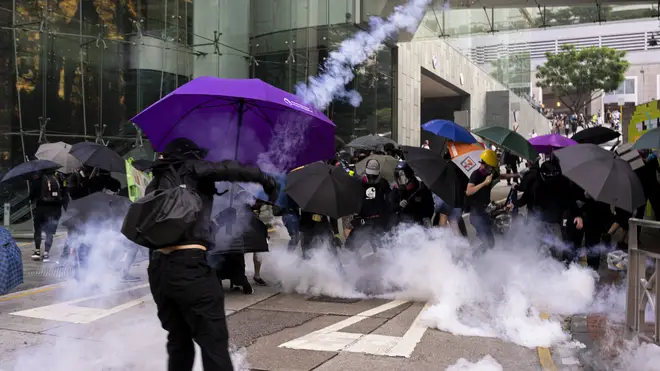 "The police force really did not want to see anyone being injured, so we feel very sad about this. We warn rioters to stop breaking the law immediately, as we will strictly enforce the law."
In a statement on Facebook, Police Senior Superintendent Yolanda Yu Hoi-kwan said the force was "saddened" by the shooting.
She said: "At about 4pm, a large group of rioters attacked police officers near Tai Ho Road, and they continued with their attack after officers warned them to stop.
"As an officer felt his life was under serious threat, he fired a round at the assailant to save his own life and his colleagues' lives."
Protests have now been going on for five months, with Tuesday being one of the bloodiest days yet.
Officers have fired live rounds and regularly used tear gas and water cannons on assembled crowds.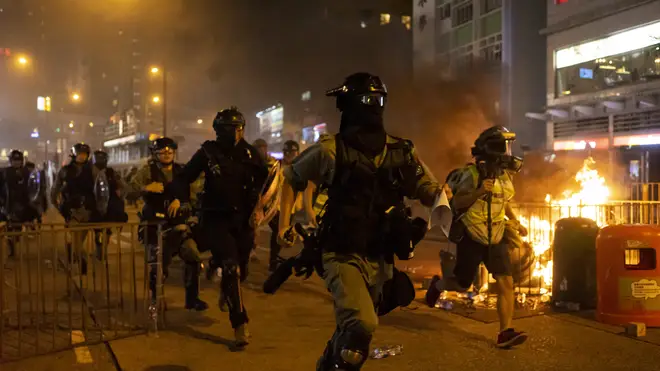 Initially, demonstrators were protesting the now-suspended bill that would have allowed criminal suspects to be extradited to mainland China.
But despite the bill being scrapped, and pro-Beijing leader Carrie Lam's resignation, riots have still broken out over concerns freedoms are being eroded by the "one country, two systems" policy.
Tony is not the only one to have been seriously injured during the course of the demonstrations.
On Sunday, an Indonesian journalist who was shot in the face with a rubber bullet has permanently lost their sight in one eye.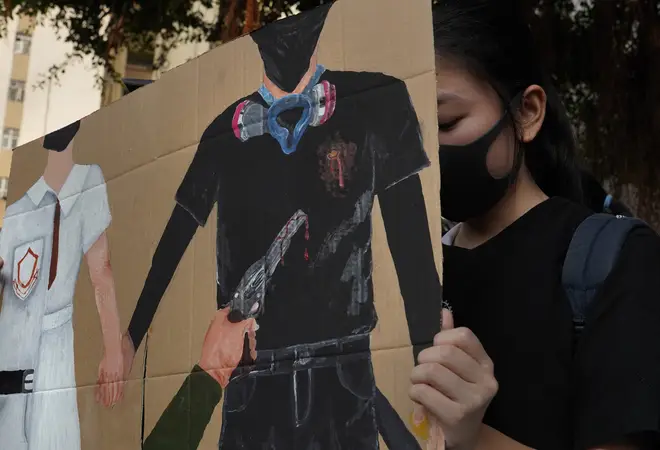 Officers have also deployed a water cannon to disperse the protesters, using blue dye that stick to the skin to identify criminals.
British Foreign Secretary, Dominic Raab, called the use of live ammunition "disproportionate".
He said: "Whilst there is no excuse for violence, the use of live ammunition is disproportionate, and only risks inflaming the situation.
"The incident underlines the need for a constructive dialogue to address the legitimate concerns of the people of Hong Kong.
"We need to see restraint and a de-escalation from both protesters and the Hong Kong authorities."