Canada's Justin Trudeau "layers of privilege" stopped him seeing blackface as racist
19 September 2019, 06:28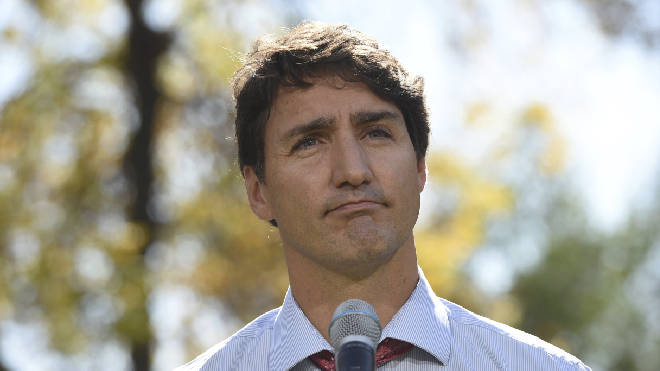 Canada's PM Justin Trudeau says he cannot remember how often he wore blackface, as a row deepens ahead of an election in October.
A new video has emerged of Canada's Prime Minister, Justin Trudeau, wearing blackface, a day after he admitted such behaviour was racist.
In the video he is seen in a white T-shirt and torn jeans, his face and limbs covered in black make-up, whilst laughing, throwing his hands in the air, sticking his tongue out and pulling faces.
In a fresh statement to reporters, Mr Trudeau said he "deeply, deeply" regretted his behaviour.
Canada's prime minister says he did not see that dressing up in blackface was racist - because of the "layers of privilege" he's benefitted from.
He said his choices had "hurt people" and that he had not talked about it before because "quite frankly, I was embarrassed".
He added: "It is not something that represents the person I've become, the leader I try to be."
Photos of two similar episodes came to light on Wednesday - one when he was a teacher and another when a student.
The revelations come amid campaigning for the 21 October election when Mr Trudeau hopes to win a second term.
Time magazine published the photograph one week into the election campaign with Mr Trudeau's Liberal Party in a close fight against the Canadian Conservative Party.
The black-and-white photograph shows Trudeau, then 29, wearing a turban and robes with his face, neck and hands darkened at a gala party in 2001.
The picture appears in the 2000-2001 yearbook of West Point Grey Academy, a private school where Trudeau taught at the time, the US-based Time magazine said.
Mr Trudeau says he should have known better.
He also had dark makeup on his hands, face and neck at an 'Arabian Nights' themed costume party in 2001.
When asked if he thought the photograph was racist, the Canadian Prime Minister said, "Yes it was. I didn't consider it racist at the time, but now we know better."
Mr Trudeau said: I have worked all my life to try to create opportunities for people, fight against racism and intolerance," Trudeau told a media huddle on his campaign aircraft.
"I can say I made a mistake when I was younger and I wish I hadn't. I wish I had known better then, but I didn't and I'm deeply sorry for it."
"Now I recognize it was something racist to do," he said. "It was a dumb thing to do. I'm disappointed in myself."
Jagmeet Singh, Leader of Canada's New Democratic Party, hit out at the Prime Minister: "Anytime we hear examples of brown face or blackface, it's making a mockery of someone for what they live and what their lived experiences are," he said. 
"What does that say about what he thinks about people who, because of who they are, because of the colour of their skin, face challenges and barriers and obstacles in their life. Racism is real."
Tonight is not about the Prime Minister.

It's about every young person mocked for the colour of their skin.

The child who had their turban ripped off their head.

And those reliving intense feelings of pain & hurt from past experiences of racism.

To you, I say you are loved.

— Jagmeet Singh (@theJagmeetSingh) September 19, 2019