Italy overtakes China in total number of coronavirus deaths
19 March 2020, 17:29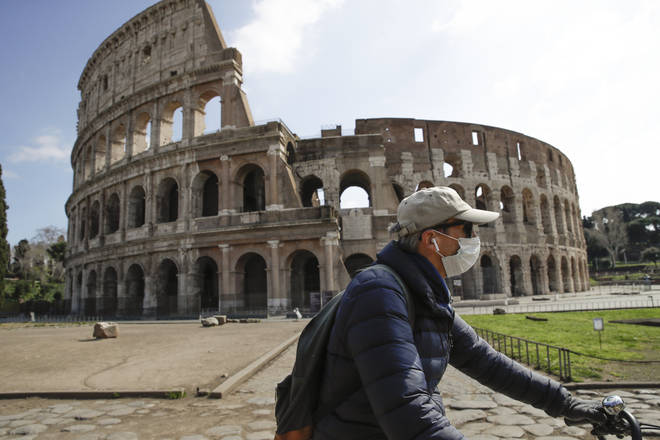 Italy has surpassed China in the total number of coronavirus-related deaths, with 3,405 now confirmed dead.
On Thursday, 427 more people were confirmed to have died because of Covid-19, moving Italy passed China's total of 3,249.
Italy now has at least 156 more deaths than China, despite their population sizes being significantly different - Italy has a population of roughly 60 million, compared to China which has nearly 1.4 billion.
It comes on the same day that Wuhan, the Chinese city in which the virus is believed to have started, recorded zero new infections.
On Thursday, a visiting Chinese Red Cross team criticised Italy's failure to properly quarantine themselves and take the national lockdown seriously.
Jonas Schmidt-Chanasit, a virologist at Germany's Bernhard Nocht Institute for Tropical Medicine, said Italy's high death rate could be explained in part by the almost total breakdown of the health system in some areas.
"That's what happens when the health system collapses," he said.
Meanwhile, the damage to the world's largest economy kept piling up, with unemployment claims surging in the United States, while the virus appeared to be opening an alarming new front in Africa where, in less than three weeks, it has spread to 35 countries.
The epidemic has also now reached at least one European head of state, 62-year-old Prince Albert II of the tiny principality of Monaco. The palace announced that he tested positive for the virus but was continuing to work from his office and was being treated by doctors from Princess Grace Hospital.
In the US, Congress rushed to pass a one trillion dollar emergency package to shore up the sinking economy and help households pull through the crisis.
The worldwide death toll crept towards 10,000 as the total number of infections topped 220,000, including nearly 85,000 people who have recovered.
French Prime Minister Edouard Philippe pleaded with people to keep their distance from one another to avoid spreading the virus, even as the crisis pushed them to seek comfort.
"When you love someone, you should avoid taking them in your arms," he said in parliament.
"It's counter-intuitive, and it's painful. The psychological consequences, the way we are living, are very disturbing - but it's what we must do."
The American death toll rose to 160, which was primarily elderly people.