Pope Francis apologises after slapping a female worshipper who grabbed his hand
1 January 2020, 12:47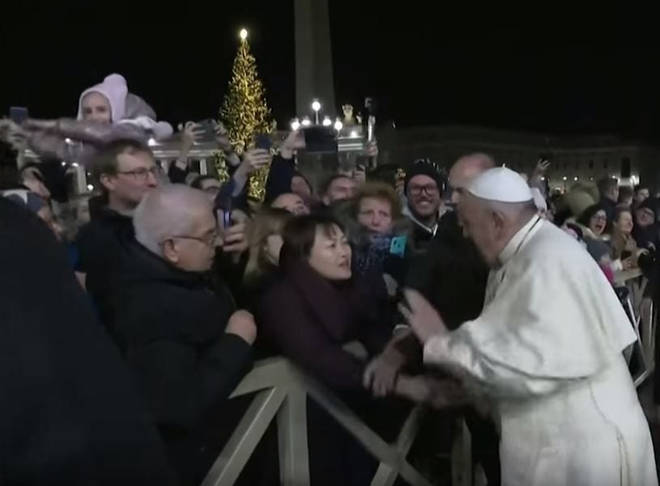 Pope Francis has apologised after slapping the hand of a woman who grabbed him and yanked him towards her while he was out greeting worshippers in the Vatican.
The Pope was in St Peter's Square after his New Year's Eve liturgy when he was walking to visit the Vatican's nativity scene.
He was greeting worshippers and after reaching out to touch a child, a woman grabbed his hand and pulled him towards her sharply, causing him to stumble.
Pope Francis appeared visibly angry and when the woman did not let go until he slapped her hand to free himself.
In his New Year's Day address the pope apologised over the incident.
He said: "I apologise for the poor example yesterday" while speaking words about the importance of being patient.
"It happens to me too. I apologise for the bad example given yesterday," the head of the Catholic church said.
He then added "I say 'excuse me' for the bad example" he gave in the incident on Tuesday.
His words came ahead of a mass at the Vatican.
In the homily during Mass in St. Peter's Basilica, Pope Francis decried "how many times women's bodies are sacrificed on the profane altar of advertisements, of profit, of pornography.'
He also lamented that women, "the sources of life, are continually offended, beaten, raped, forced into prostitution" or forced to have abortions.
He praised women as "donors and mediators of peace," and urged that they should become 'fully associated' with decision-making in order to make the world more united and at peace.
"A conquest for women is a conquest for the whole of humanity," he said.
The woman had made the sign of the cross as the pope approached her. It was not clear what she was saying at the time of the incident.