Plane carrying Prince William and Kate forced to divert in Pakistan after being caught in storm
17 October 2019, 19:54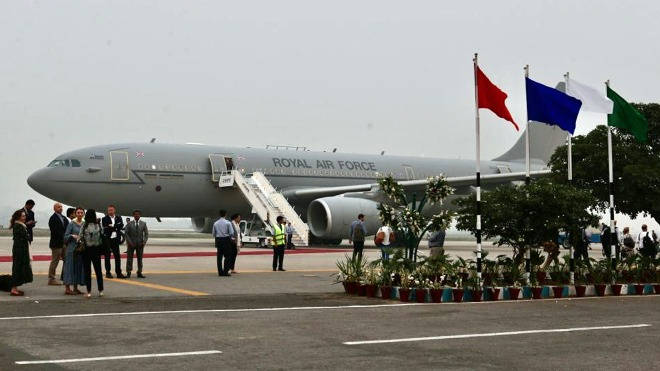 A plane carrying Prince William and Kate was forced to abandon its landing after it flew into a storm in Pakistan.
RAF Voyager attempted to land twice at two different airports in the country on Thursday afternoon, but was forced to land back in Lahore.
The plane was struck by lightning multiple times and those inside the plane said the turbulence was intense.
Members of the press, also on board, were made to evacuate after the landing and tweeted updates on the dramatic scene.
A mid-air drama for the Duke and Duchess of Cambridge - and the entire press pack - as storms force our RAF Voyager to twice abandon landing in Islamabad and return to #Lahore The pilot circled for an hour but the lightening - and turbulence - was so bad we had to fly back. pic.twitter.com/mvTRVfHhiW

— Rebecca English (@RE_DailyMail) October 17, 2019
The royal couple are reported to be fine and well after the incident, joking that Prince William must have been flying the plane.
The Duke and Duchess of Cambridge are in the middle of their four-day tour of Pakistan, where today they visited the Shaukat Khanum Memorial Cancer Hospital.
The hospital was founded in the 1990s by the now Prime Minister of the country - and good friend of Princess Diana - Imran Khan.