Princess Cruises cancels all trips for two months amid coronavirus pandemic
12 March 2020, 13:32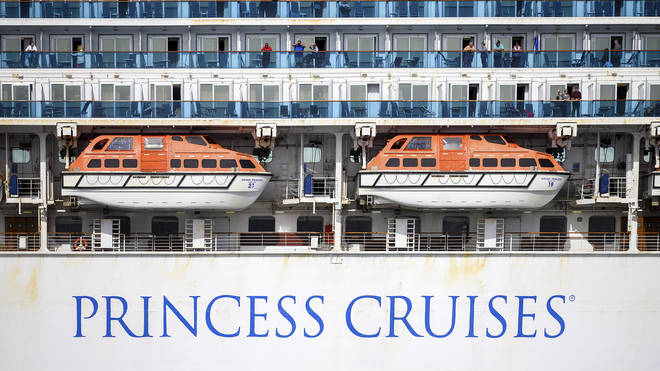 Princess Cruises has cancelled all trips for the next two months as the company battles with the impact of coronavirus.
The company, which has had three of its 18 ships affected by the pandemic, said all new journeys will be cancelled until 10 May "in an abundance of caution".
Any passengers currently on a cruise with the company due to end in the next five days will continue as usual.
However, anyone who is currently on a trip that is due to end later than five days will be asked to disembark at a port that suits them best.
READ MORE: Trump Europe travel ban sparks fears of more coronavirus patients coming to UK
It comes after the company, which is owned by London-listed Carnival, were hit on a number of occasions with virus cases.
In early February, the Diamond Princess ship was quarantined off the coast of Japan after several cases were confirmed on board.
Nearly 700 passengers out of the 3,711 people on board eventually contracted the virus.
Just weeks later, the Grand Princess cruise ship also recorded several cases of the virus on board its vessel.
It eventually docked in Oakland, California, after 21 people tested positive.
A third ship, the Caribbean Princess, is currently under a "no sail order" from the US Centres for Disease Control Prevention amid concerns of passengers possibly having the virus.
It is anchored off the coast of Florida.
READ MORE: Ireland shuts schools and cancels events in coronavirus lockdown
In a statement about it's decision to cease operations for two month, Princess Cruises president Jan Schwartz said it wanted to "reassure" guests of the company's commitment to their safety.
She said: "Princess Cruises is a global vacation company that serves more than 50,000 guests daily from 70 countries as part of our diverse business and it is widely known that we have been managing the implications of Covid-19 on two continents.
"By taking this bold action of voluntarily pausing the operations of our ships, it is our intention to reassure our loyal guests, team members and global stakeholders of our commitment to the health, safety and well-being of all who sail with us, as well as those who do business with us, and the countries and communities we visit around the world."
"Never in 55 years ... have we been tested in the ways that we have been tested over the past 40 days," Ms Swartz said in a video posted to YouTube.
"We have battled this virus on two continents," she added.
"We have been asked - and we've asked ourselves - why Covid-19 seems to be impacting Princess so heavily.
"We don't really know."