Soldiers patrol streets in Chile as state of emergency declared
19 October 2019, 20:26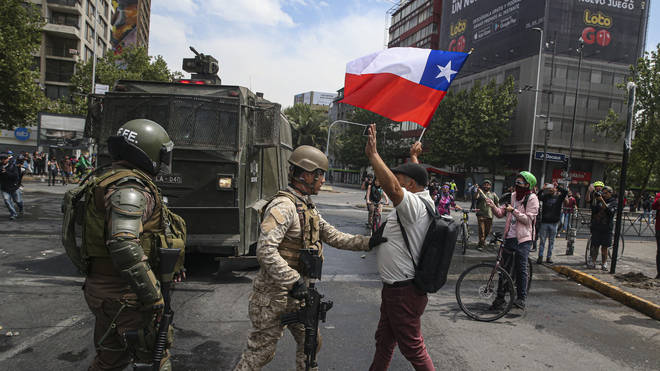 Armed forces are patrolling Santiago's streets for the first time since Augusto Pinochet's dictatorship ended in 1990 due to student-led protests against a rise in subway fares.
President Sebastian Pinera issued a state of emergency and introduced the military presence to counter the demonstrations.
More than 300 people have been arrested as protesters set several subway stations on fire, flooded others and damaged dozens more.
Officials have reported that 156 police officers have been injured in the violence along with 11 civilians.
Rail services were suspended on Friday night in the Chilean capital, trapping hundreds of thousands of commuters on their way home from work.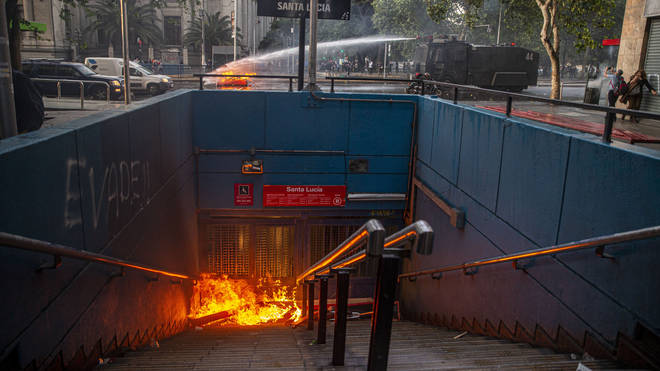 Activists jumped turnstiles, dodged fares and vandalised stations in Santiago as part of a movement which swiftly spread throughout the city.
Students set up barricades, lit fires outside entrances to stations and attacked police vehicles with one bus being seen fully ablaze.
Mr Pinera announced the state of emergency in affected areas after midnight, allowing authorities to restrict people's rights to assembly and movement.
He said it was aimed at guaranteeing "the security of residents, protecting goods and the rights of each one of our compatriots who have seen complications from the actions of true criminals."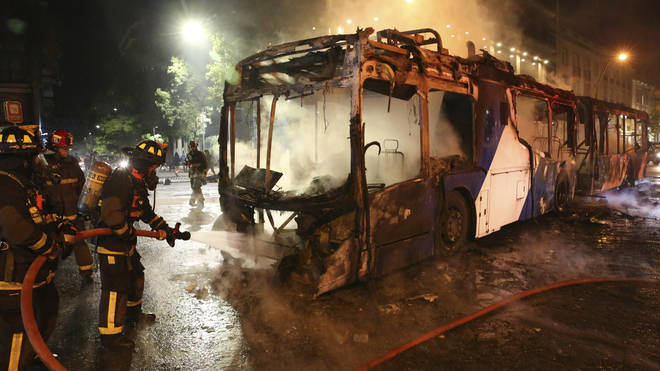 People who damage and disrupt the subway system can receive a prison sentence of three to five years in Chile.
After a period of calm on Saturday morning, new protests broke out at midday with police firing tear gas in order to break them up.
Demonstrations began on Monday when hundreds of young people descended upon subway stations to show their opposition to a four per cent rise in fares.
Officials said the move was down to rising fuel prices as Chile imports all its oil.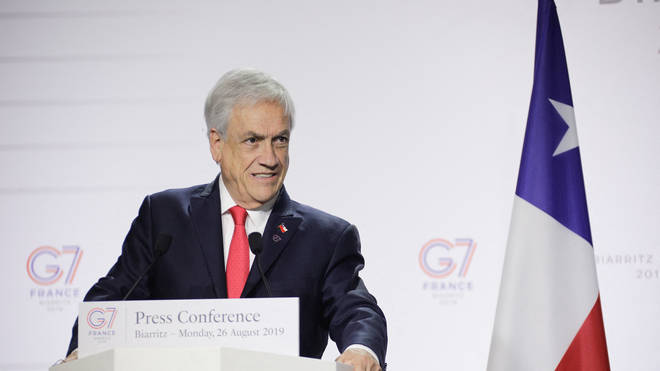 As the week went on, so did the rioting, with students breaking gates, shattering glass and throwing debris on to the electrified rails.
Residents of Santiago have been divided over sympathising with the demonstrators or being angry at the delays to public transport.
"It's unacceptable that because of schoolchildren we can't return to our homes," said bank worker Daniel Fuentealba.
However, the National Co-ordinator of Secondary Students called for the protests to continue.
Transportation minister Gloria Hutt, who previously opposed lowering fares, said: "It's possible that during the next week the functioning [of the subway system] returns in a gradual fashion."