Thousands protest in Moscow against 'repression' of opposition activists
29 September 2019, 16:26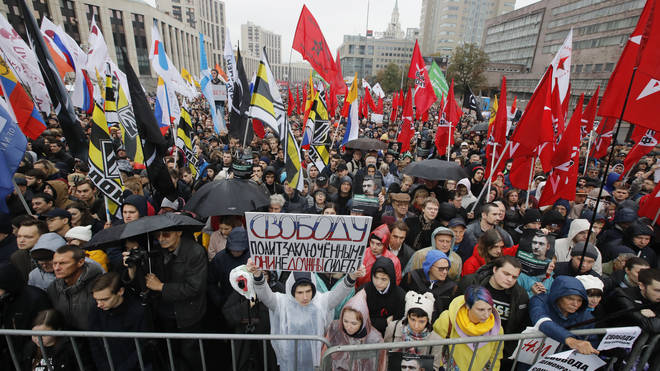 Thousands of protesters swarmed Moscow to put pressure on the Russian Government after a summer of protests.
Around 20,000 demonstrators gathered in Russia's capital to demand the release of opposition activists that have been arrested in recent months.
The protest, approved by the authorities, was organised by opposition parties and groups to regain momentum after a series of demonstrations over the summer.
Protesters chanted slogans such as "let them go" and called for an end to police brutality, which they allege took place in previous protests.
About 18k and counting have turned up to today's broadly anti-Kremlin protest demo in central Moscow so far. After a summer of intense protests over legislative elections in the capital, the opposition in Russia tries to show the momentum is still there. pic.twitter.com/KEuTsTPm5t

— Ivan Nechepurenko (@INechepurenko) September 29, 2019
During rallies in July and August over 3,000 people were arrested and videos emerged of police using extreme force to disperse large groups.
The actions were condemned by a number of Western governments and human rights groups, who also criticised the move to disqualify dozens of opposition and independent candidate in the recent local elections.