Boris warns Putin that invading Ukraine will be 'painful, violent and bloody'
24 January 2022, 05:48 | Updated: 24 January 2022, 13:44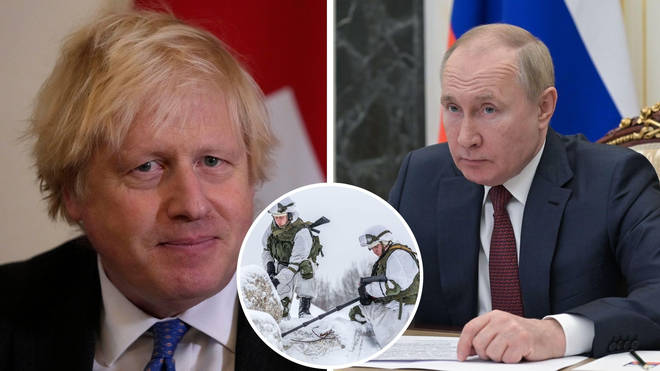 Boris Johnson has warned of a "lightning war" as Russian troops amass on the Ukranian border, adding that an invasion would be "disastrous".
The Prime Minister described the situation as "gloomy" on Monday and insisted Russia needed to know such a move would have "painful, violent and bloody business" consequences.
Speaking to reporters in Milton Keynes as the Foreign Office pulled some embassy staff out of Kyiv, Mr Johnson said: "We do think it prudent to make some changes now.
"The intelligence is very clear that there are 60 Russian battle groups on the borders of Ukraine, the plan for a lightning war that could take out Kyiv is one that everybody can see.
"We need to make it very clear to the Kremlin, to Russia, that that would be a disastrous step."
He said the UK was "leading on creating a package of economic sanctions" against Russia and he would be speaking to international allies later on Monday.
"We also need to get a message that invading Ukraine, from a Russian perspective, is going to be a painful, violent and bloody business," he said.
"I think it's very important that people in Russia understand that this could be a new Chechnya."
Mr Johnson said he had visited Ukraine and knew the people of the country, adding: "My judgment is that they will fight."
Asked if he believed an invasion was imminent, the Prime Minister, said: "I've got to tell you that I think the intelligence is pretty gloomy at this point.
"There is certainly a very, very large array of Russian forces and we have to take the necessary steps.
"I don't think it's by any means inevitable now, I think that sense can still prevail."
The Foreign Office earlier confirmed British embassy staff and their dependants are being pulled out of Kyiv in response to the "growing threat" of an invasion.
In a statement the Foreign Office said: "Some embassy staff and dependants are being withdrawn from Kyiv in response to the growing threat from Russia.
"The British Embassy remains open and will continue to carry out essential work."
More than 100,000 Russian troops are currently on the with former Secretary of State Rory Stewart warning Putin has the resources to "invade tomorrow" but added the Russian President wants to takeover Ukraine "ideally peacefully" as he uses this chance to "intimidate" the West.
Nato confirmed today it is putting extra forces on standby and sending more ships and fighter jets to eastern Europe as Russia continues its troop build-up near Ukraine.
It said it is increasing its "deterrence" presence in the Baltic Sea area with a number of members of the 30-country military organisation offering troops and equipment.
Read more: Arctic blast to sweep UK with snow showers expected to hit, Met Office warns
Read more: French fashion designer Thierry Mugler dies aged 73
Denmark is sending a frigate to the Baltic Sea and deploying F-16 war planes to Lithuania.
Spain is sending ships to join Nato's standing maritime force and considering sending fighter jets to Bulgaria and France stands ready to send troops to Bulgaria.
Nato secretary general Jens Stoltenberg said in a statement: "Nato will continue to take all necessary measures to protect and defend all allies, including by reinforcing the eastern part of the alliance.
"We will always respond to any deterioration of our security environment, including through strengthening our collective defence."
The United States has also ordered the families of all American personnel at the US Embassy to leave the country in response to the risk of an invasion.
The State Department told the dependents of staffers at the US Embassy in Kyiv that they must leave the country.
Non-essential embassy staff have also been given permission to leave and US citizens in Ukraine have been asked to consider leaving.
State Department officials stressed the Kyiv embassy will remain open and that the announcement does not constitute an evacuation.
The move had been under consideration for some time and does not reflect an easing of US support for Ukraine, the officials said.
In a statement, the State Department noted recent reports that Russia was planning significant military action against Ukraine.
Read more: No10 police give 'damming evidence' to partygate probe as aides admit 'holding back info'
Read more: Riot police fire water cannons and tear gas amid mass Covid protests in Brussels
The State Department added: "The security conditions, particularly along Ukraine's borders, in Russia-occupied Crimea, and in Russia-controlled eastern Ukraine, are unpredictable and can deteriorate with little notice.
"Demonstrations, which have turned violent at times, regularly occur throughout Ukraine, including in Kyiv."
However, the Russian Foreign Ministry has accused Nato countries of escalating tensions around Ukraine with disinformation.
The move came amid rising tensions about Russia's military build-up on the Ukraine border that were not eased during talks on Friday between Secretary of State Antony Blinken and Russian Foreign Minister Sergey Lavrov in Geneva.
At a press conference after the crucial negotiations, Mr Lavrov reiterated Moscow's position that it has "never threatened the Ukrainian people", adding they have no plans to attack Ukraine.
US President Joe Biden said the US is preparing for Russia to take action that falls outside the parameters of conventional warfare.
No10 said if Russian President Vladimir Putin launches an offensive, there will be a "package of sweeping measures" launched by the UK and its allies against the Kremlin.
Read more: Fears over road rage incidents as Highway Code changes to come into force
Read more: No10 faces calls for fresh probe after Tory MP Nus Ghani sacked in 'Muslimness' row
Foreign Secretary Liz Truss warned Mr Putin he must "desist and step back" from war in Ukraine or risk being dragged into a prolonged conflict like the Soviet invasion of Afghanistan.
Speaking at the Lowy Institute in Sydney last week, Ms Truss said: "If there is an incursion by Russia into Ukraine, it would come at a massive cost.
"We are prepared to put very severe sanctions in place, we are also working to support Ukraine in terms of defensive capability."
A spokesman for Boris Johnson said: "I think the Prime Minister has been clear that any destabilising action by Russia in Ukraine would be a strategic mistake and would have significant consequences.
"I've talked about the fact that we're working closely with our partners, including the US, to draw up a package of sweeping measures to make sure that the Russian government is punished if it crosses the line."