US political activist says Wuhan medical staff are 'like Chernobyl firefighters on suicide mission'
27 January 2020, 13:29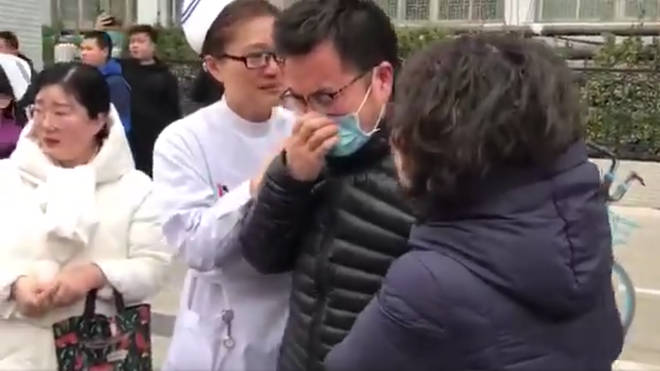 Wuhan medical staff have been compared to Chernobyl firefighters by an American political activist, who dubbed their efforts a "suicide mission".
Powerful footage has emerged from US government-funded Radio Free Asia (RFA) of relatives saying goodbye to recruited medical staff who are being sent to Wuhan.
As the staff board a coach, the camera focuses on heartbroken relatives sobbing and hugging each other for support.
American politician and entrepreneur Solomon Yue tweeted in response: "Like Chernobyl firefighters, some of those doctors and nurses WON'T come back to their loved ones.
"This is a coronavirus suicide mission for many of them. God bless them."
The number of people killed in China by the new coronavirus has risen to 81 and almost 3,000 people have been confirmed ill.
China's new year holiday has been extended by three days in an attempt to contain the spread of the disease.
The coronavirus is believed to have started in Wuhan, which is currently in lockdown, and more than 1,400 cases have been reported in the Hubei province. The province also accounts for 76 of the confirmed deaths, so far.
Medical staff in Wuhan are struggling to cope with the huge demand and vital equipment is in short supply. It was also reported that medical staff are wearing adult diapers because they do not have time to go to the toilet and they do not want to remove their protective suit.
A Wuhan doctor wrote on Weibo: "We know that the protective suit we wear could be the last one we have, and we can't afford to waste anything."
The Chinese Centre for Disease Control also reported that 15 hospital staff members in Wuhan caught the virus while treating patients.
Ministers are working to get Britons out of Hubei, as Public Health England acknowledged that the first UK case is likely to come from somebody already in the country.
In an updated statement, the Foreign Office said anyone in the province who needs assistance can call a 24-hour helpline.
A spokesman said: "We are working to make an option available for British nationals to leave Hubei province due to the heavy travel restrictions and increased difficulty of accessing consular or medical assistance.
"The safety and security of British nationals is our number one priority.
"We continue to monitor developments closely and are in close touch with the Chinese authorities."