US prosecutors brand Prince Andrew 'uncooperative' over Epstein scandal interview
27 January 2020, 17:16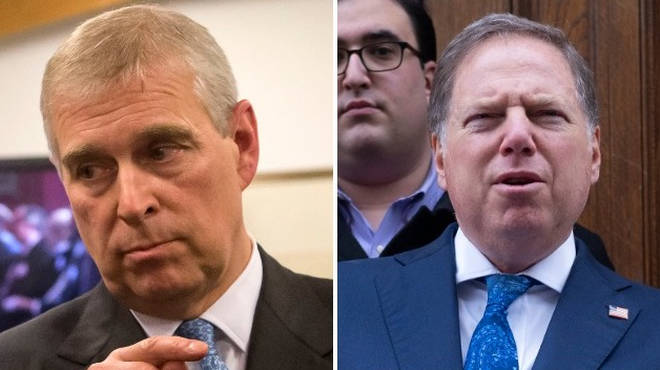 US prosecutors have branded Prince Andrew "uncooperative" after they requested to interview him over the Jeffrey Epstein scandal.
Speaking at a news conference outside Epstein's New York mansion, US Attorney Geoffrey Berman said the Duke of York's lawyers had been contacted by prosecutors and the FBI, who requested to interview him as part of the investigation.
But the Attorney for the Southern District of New York, who is overseeing the investigation, said: "To date, Prince Andrew has provided zero cooperation."
Andrew stepped down from royal duties in November following a disastrous Newsnight interview, where viewers accused him of lacking empathy for Epstein's victims and failing to show regret over his friendship with the disgraced financier.
Mr Berman was speaking at an event to promote a new law that makes it easier for victims to sue over childhood abuse.
Before being asked about the Duke, Mr Berman confirmed the investigation was looking at possible "conspirators" who worked with Epstein.
Mr Berman added: "Jeffrey Epstein couldn't have done what he did without the assistance of others, and I can assure you that the investigation is moving forward."
Epstein was arrested in July 2019 and charged with sex trafficking girls as young as 14. He was found dead in a jail cell in August 2019, the medical examiner ruled his death to be suicide.
Virginia Giuffre, who claims she was trafficked by Epstein, told BBC Panorama that she was left "horrified and ashamed" after an alleged sexual encounter with Andrew in London in 2001.
She claimed she danced with Andrew in Tramp nightclub, adding he was "the most hideous dancer I've ever seen in my life" and "his sweat was... raining basically everywhere".
In 2008 Epstein admitted prostituting minors and was sentenced to 18 months in prison.
Epstein was released in 2010, where Prince Andrew was photographed meeting him in New York's
Central Park.
Andrew told BBC Newsnight he first met the since-disgraced financier through "his girlfriend back in 1999".
But in March 2011, the duke's then-private secretary Alastair Watson, who spent nine years in the role, wrote to The Times newspaper saying Andrew met Epstein in the "early 1990s".
Andrew later says he sees Epstein "infrequently", adding "probably no more than only once or twice a year".
A royal source said: "This issue is being dealt with by the Duke of York's legal team."
Buckingham Palace is not commenting on the matter.