Donald Trump Jr praises father's property exploits in civil fraud trial
14 November 2023, 12:04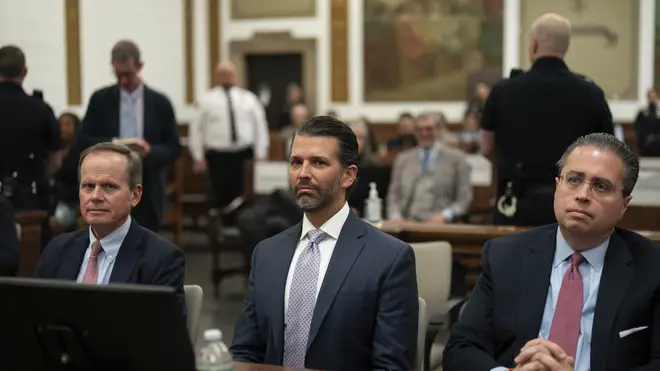 Donald Trump, his company and executives including his two eldest sons are accused of exaggerating his wealth on financial statements.
Donald Trump Jr returned to court on Monday as something of a character witness for his father's property empire, waxing exuberantly about the former president's "incredible vision" as a developer and his company's portfolio of "great, iconic projects" at the New York civil fraud trial now threatening its future.
Donald Trump's eldest son was making an encore appearance at the trial, this time as defence lawyers started calling their own witnesses.
Trump Jr first gave evidence two weeks ago, in the last phase of the state's case, which also featured testimony from his father and siblings Eric and Ivanka Trump.
"I'd say it's good to be here, your honour, but I have a feeling that the attorney general would sue me for perjury if I said that," he joked before embarking on a detailed history of his father's company.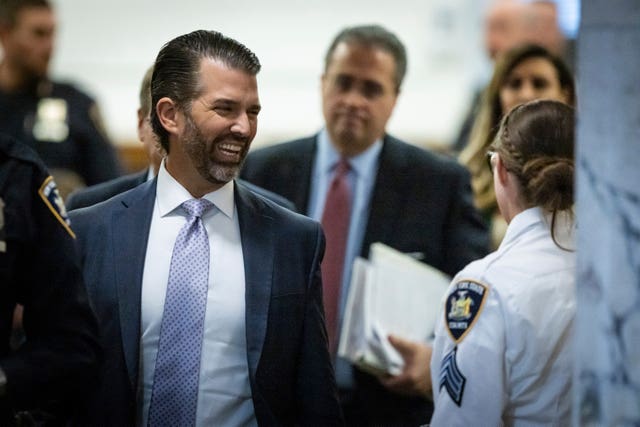 New York attorney general Letitia James alleges that Donald Trump, his company and executives including his two eldest sons exaggerated his wealth by billions of dollars on financial statements given to banks, insurers and others.
The documents were used to secure loans and make deals. James is seeking more than 300 million dollars (£245 million) in what she says were ill-gotten gains and a ban on defendants doing business in New York.
Trump Jr's evidence on Monday set the tone for a defence case that is expected to last into mid-December.
After a six-week state case that focused heavily on the financial statements, spreadsheets and loan deals at the heart of the case, he tried to humanise the Trump Organisation in the mind of the judge who  will decide its fate.
Questioned by his own lawyer, Clifford Robert, he spent more than an hour narrating a slideshow titled The Trump Story, complete with a timeline of the company's evolution and photographs of golf courses, hotels and other major projects.
He spoke glowingly about his father's early years as a Manhattan developer, his work turning eyesores into thriving skyscrapers and the "vision he had to do things differently".
"He's an artist with real estate. He sees the things other people don't," Trump Jr said, playing up his father's accomplishments while skipping over his failed ventures and casino bankruptcies.
"He has incredible vision that other people don't."
Trump Jr, a Trump Organisation executive vice president, originally gave evidence during the state's case on November 1 and 2.
He said then that he never worked on the annual financial statements at the heart of James' lawsuit.
He said he relied on the company's longtime finance chief and outside accountants to verify their accuracy.
At times, his evidence on Monday had the feel of a property pitch or an old episode of Lifestyles Of The Rich And Famous.
State lawyer Colleen Faherty tried to forestall the superlative-laced spiel, saying it was "unfocused to anything relevant" to the case.
Judge Arthur Engoron disagreed, saying: "Let this stuff come in. I also find it interesting."
Before the trial, Judge Engoron ruled that the defendants committed fraud by inflating his net worth and the value of assets on his financial statements.
He imposed a punishment that could strip Donald Trump of properties like Trump Tower, though an appeals court is allowing the former president to remain in control for now.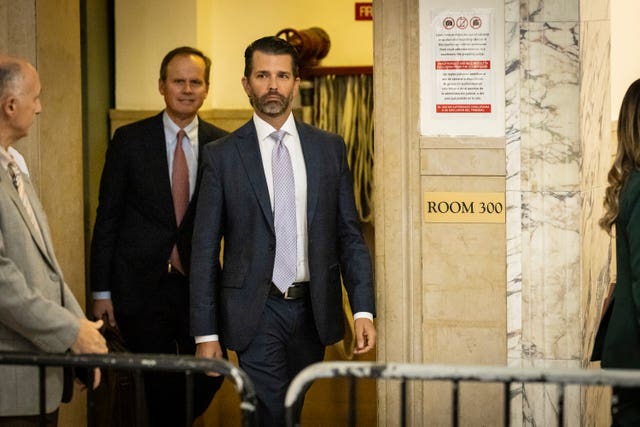 The Trumps have denied wrongdoing.
Their lawyers contend that the state failed to meet "any legal standard" to prove allegations of conspiracy, insurance fraud and falsifying business records.
The state rested its case last Wednesday after six weeks of evidence from more than two dozen witnesses, among them company insiders, accountants, bank officials and Trump's fixer-turned-foe Michael Cohen.
The trial is proceeding after Judge Engoron rebuffed the defence's request last week to end it early through what is known as a directed verdict.
Judge Engoron did not rule on the request, but indicated the trial would move ahead as scheduled.
Trump lawyer Christopher Kise, seeking a verdict clearing Trump and other defendants, argued last Thursday that the state's case involved only "successful and profitable loan transactions" and that "there is no victim. There is no complainant. There is no injury."
After giving evidence in early November, Donald Trump Jr echoed his father's claims that the case was "purely a political persecution" brought by James, a Democrat, to blunt Trump's chances as the front-runner for the 2024 Republican presidential nomination.
"I think it's a truly scary precedent for New York, for me, for example, before even having a day in court, I'm apparently guilty of fraud for relying on my accountants to do, wait for it – accounting," Trump Jr told reporters on November 2.
Trump Jr will give further evidence on Tuesday, followed by a tax lawyer who also testified as a state witness. Eric Trump is also expected to return to court.
When he became president in 2017, Donald Trump handed day-to-day management of his company to Eric and Donald Trump Jr and named Trump Jr. as a trustee of a trust he established to hold his assets while in office.
In Donald Trump Jr's prior evidence, when asked if he ever worked on his father's "statement of financial condition", he said: "Not that I recall."
Trump Jr. said he signed off on statements as a trustee, but left the work to outside accountants and the company's then-finance chief and co-trustee, Allen Weisselberg.
"I had an obligation to listen to the people with intimate knowledge of those things," Trump Jr said.
"If they put something forward, I wasn't working on the document, but if they tell me that it's accurate, based on their accounting assessment of all of the materials. These people had an incredible intimate knowledge, and I relied on it."