IBM pulls ads from X after report says they appeared next to antisemitic posts
17 November 2023, 20:54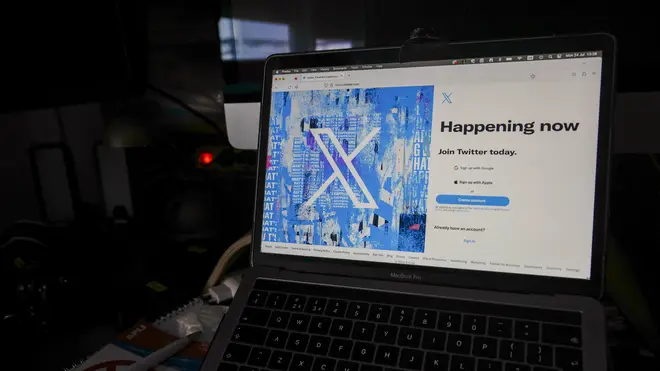 The move follows a report by liberal advocacy group Media Matters.
IBM has stopped advertising on social media platform X after a report said its ads were appearing alongside material praising Adolf Hitler and Nazis.
The move by the US tech giant is a fresh setback as the site formerly known as Twitter tries to win back big brands and their advertising money.
IBM made the decision after a report on Thursday by the liberal advocacy group Media Matters said ads from IBM, Apple, Oracle, NBCUniversal's Bravo network and Comcast were placed next to antisemitic material on X.
The firm said: "IBM has zero tolerance for hate speech and discrimination and we have immediately suspended all advertising on X while we investigate this entirely unacceptable situation."
The European Union's executive branch said separately on Friday that it is pausing its advertising on X and other social media platforms, in part because of a surge in hate speech.
Separately, a spokesperson for Lionsgate confirmed on Friday afternoon that the entertainment company has also suspended advertising on X.
Billionaire owner Elon Musk sparked an outcry this week with his own tweets responding to a user who accused Jews of hating white people and professing indifference to antisemitism.
"You have said the actual truth," Mr Musk tweeted in a reply Wednesday.
Mr Musk has faced accusations of tolerating antisemitic messages on the platform since purchasing it last year, and the content on X has gained increased scrutiny since the war between Israel and Hamas began.
"We condemn this abhorrent promotion of antisemitic and racist hate in the strongest terms, which runs against our core values as Americans," White House spokesperson Andrew Bates said on Friday in response to Mr Musk's tweet.
CEO Linda Yaccarino said in a tweet: "X's point of view has always been very clear that discrimination by everyone should STOP across the board – I think that's something we can and should all agree on."
She was hired by Mr Musk to rebuild ties with advertisers who fled after he took over, concerned that his easing of content restrictions was allowing hateful and toxic speech to flourish and that would harm their brands.
"When it comes to this platform – X has also been extremely clear about our efforts to combat antisemitism and discrimination. There's no place for it anywhere in the world – it's ugly and wrong. Full stop," Ms Yaccarino said.
The accounts that Media Matters found posting antisemitic material will no longer be monetisable and the specific posts will be labelled "sensitive media", according to a statement from X on Friday.
Still, Mr Musk decried Media Matters as "an evil organisation".
The head of the Anti-Defamation League also hit back at Mr Musk's tweets this week, in the latest clash between the prominent Jewish civil rights organisation and the billionaire businessman.
"At a time when antisemitism is exploding in America and surging around the world, it is indisputably dangerous to use one's influence to validate and promote antisemitic theories," ADL chief executive Jonathan Greenblatt said on X.
Mr Musk also tweeted this week that he was "deeply offended by ADL's messaging and any other groups who push de facto anti-white racism or anti-Asian racism or racism of any kind".
The group has previously accused Mr Musk of allowing antisemitism and hate speech to spread on the platform and amplifying the messages of neo-Nazis and white supremacists who want to ban the ADL.
The European Commission, meanwhile, said it is putting all of its social media ad efforts on hold because of an "alarming increase in disinformation and hate speech" on platforms in recent weeks.
The commission, the 27-nation EU's executive arm, said it is advising its services to "refrain from advertising at this stage on social media platforms where such content is present", adding that the freeze does not affect its official accounts on X.
The EU has taken a tough stance with new rules to clean up social media platforms, and last month it made a formal request to X for information about its handling of hate speech, misinformation and violent terrorist content related to the Israel-Hamas war.
X is not alone in dealing with problematic content since the conflict.
On Thursday, TikTok removed the hashtag #lettertoamerica after users on the app posted sympathetic videos about Osama bin Laden's 2002 letter justifying the terrorist attacks against Americans on 9/11 and criticising US support for Israel.
The Guardian news outlet, which published the transcript of the letter that was being shared, took it down and replaced it with a statement that directed readers to a news article from 2002 that it said provided more context.
The videos garnered widespread attention among X users critical of TikTok, which is owned by Beijing-based ByteDance.
TikTok said the letter was not a trend on its platform and blamed an X post by journalist Yashar Ali and media coverage for drawing more engagement to the hashtag.
The short-form video app has faced criticism from Republicans and others who say the platform has been failing to protect Jewish users from harassment and pushing pro-Palestinian content to viewers.
TikTok has aggressively pushed back, saying it has been taking down antisemitic content and does not manipulate its algorithm to take sides.