Indian rescuers begin drilling to reach 40 people trapped in collapsed tunnel
16 November 2023, 14:54
The workers are being provided with cashew nuts, peanuts, soaked and roasted chickpeas, popcorn and medicines every two hours
Rescuers in northern India have supplied food and medicine to 40 construction workers as engineers started drilling through rubble to reach them after a portion of the tunnel they were working on collapsed over the weekend.
Officials planned to insert wide steel pipes to create a passage to free the workers trapped since early on Sunday in the mountainous Uttarakhand state. A new drilling machine was assembled after three Indian air force transport aircraft flew its parts in from New Delhi on Wednesday.
The American Auger machine will be used to drill a stretch of nearly 45m (148ft) and rescuers hope to reach the trapped workers by Friday night or Saturday, said Devendra Patwal, a disaster management relief official.
A machine used earlier in the week was found to be slow in pushing the pipes through the debris.
"We are hopeful that all individuals trapped inside will be safely rescued within a day or two," said Pushkar Singh Dhami, the top elected official in Uttarakhand state.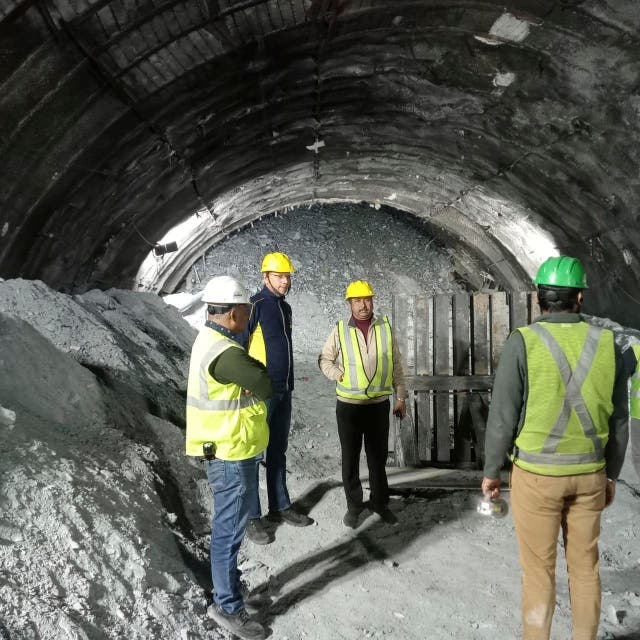 The workers are being provided with cashew nuts, peanuts, soaked and roasted chickpeas, popcorn and medicines every two hours, said Devendra Patwal, a disaster management relief official.
Some complained of fever and body aches on Wednesday, but there has been no deterioration in their condition, he said.
Anshu Manish Khalko, a national highways and infrastructure development corporation official, said he expected the drilling operation to start on Thursday.
"Once operational, this machine will facilitate the creation of an escape tunnel quickly to ensure evacuation of the trapped laborers," he said.
Relatives and friends of the trapped workers gathered outside the tunnel and were seen growing frustrated and angry on Thursday. The state government has been consulting with the Indian army and foreign experts on ways to proceed with the rescue.
Yogesh, who uses one name, cut short his Diwali celebrations and rushed to the collapsed tunnel when he learned that his brother was trapped.
"He sounded tense but said he was okay," Yogesh said after speaking to his brother Vishal. "He asked about the rescue operation and I told him that it is going on a war footing."
State officials have contacted Thai experts who helped rescue a junior football team trapped in a cave system in northern Thailand in 2018, state government administrator Gaurav Singh said. They also have approached the Norwegian geotechnical institute for possible help.
About 200 disaster relief personnel have been at the site using drilling equipment and excavators in the rescue operation, with the plan to push 2.5-foot-wide steel pipes through an opening of excavated debris.
Falling debris lightly injured two rescue workers and delayed operations on Tuesday and Wednesday. No fresh landslide has occurred since Tuesday.
A landslide during road construction caused a portion of the 2.7-mile tunnel to collapse about 500 feet from the entrance.