Biden and Xi hold first talks in a year
15 November 2023, 20:24
The two leaders are looking to get communication back on track.
US President Joe Biden and China's Xi Jinping opened their first face-to-face meeting in more than a year with a solid handshake ahead of talks with far-reaching implications for a world grappling with economic cross-currents, wars in the Middle East and Europe, tensions in Taiwan and more.
The two leaders, meeting at a country estate outside San Francisco, are looking to get communication back on track after a tumultuous year and to show the world that while they are global economic competitors, they are not locked in a winner-takes-all face-off.
Mr Biden arrived first and awaited Mr Xi, who got out of a black car and took Mr Biden's hand before the two leaders walked a red carpet through the estate's grand entrance with a China flag on one side and a US flag on the other. Five Marines stood in formation.
The two kicked off talks discussing how important and necessary the relationship is between the two nations, particularly as the world recovers from the global pandemic.
Mr Biden said the goal of the summit was for the leaders to "understand each other", and Mr Xi said they bear "heavy responsibilities" for the world.
"For two large countries like China, United States, turning their back on each other is not an option," Mr Xi said through a translator. "Planet Earth is big enough for the two countries to succeed."
Mr Biden noted that the two leaders have known each other for years but have not always agreed, and stressed how important their in-person meeting was on Wednesday.
"It's paramount that you and I understand each other clearly, leader to leader, with no misconceptions or miscommunication," Mr Biden said.
Since they last met, already fraught ties have been further strained by the US downing of a Chinese spy balloon that had traversed the continental US and by differences on the self-ruled island of Taiwan, China's hacking of a Biden official's emails and other incidents.
Mr Biden is expected to let Mr Xi know that he would like China to use its sway over Iran to make clear that Tehran or its proxies should not take action that could lead to an expansion of the Israel-Hamas war.
The Biden administration also sees the Chinese, a big buyer of Iranian oil, as having considerable leverage with Iran, which is a major backer of Hamas.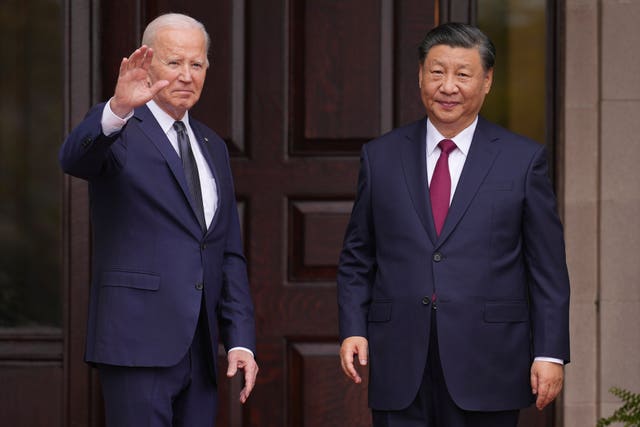 Ahead of the meeting, senior White House officials said Mr Biden would walk away with better, more concrete outcomes compared with their last meeting, in November 2022 in Bali, Indonesia, on the sidelines of the G20 summit.
There will be agreements from China to help stop the flow of chemicals used in the production of illicit fentanyl, and to revive communications between the militaries – increasingly important particularly as unsafe or unprofessional incidents between the two nations' ships and aircraft have spiked.
Mr Biden on Tuesday billed the meeting as a chance to get Washington and Beijing back "on a normal course corresponding" once again.
But White House National Council spokesman John Kirby said Mr Biden was "not going to be afraid to confront where confrontation is needed on issues where we don't see eye to eye".
"We're also not going to be afraid, nor should we be afraid, as a confident nation, to engage in diplomacy on ways which we can co-operate with China – on climate change, for instance, and clean energy technology," Mr Kirby said.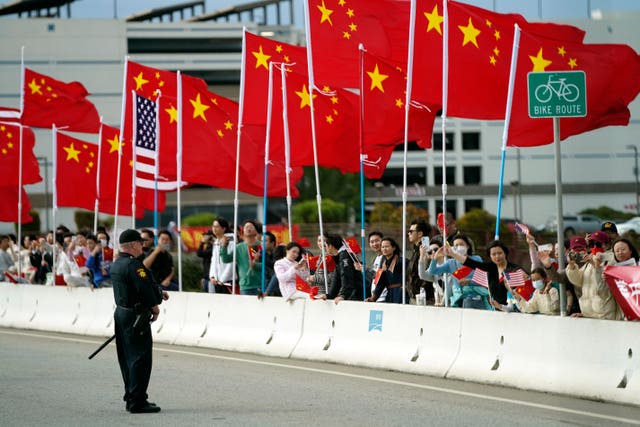 Mr Biden will be focused on managing the countries' increasingly fierce economic competition and keeping open lines of communication to prevent misunderstandings that could lead to direct conflict between the two powers.
While he is expected to defend US expansion of export controls on semiconductor chips, he also will assure Mr Xi that the US is not trying to wage economic war with Beijing amid continuing signs that China's economy is struggling to recover from the disruptions of the pandemic.
Mr Xi, meanwhile, is looking for assurances from Mr Biden that the US will not support Taiwan independence, start a new cold war or suppress China's economic growth. He is also keen to show the US that China is still a good place to invest.
Even before their meeting, there were some signs of a thaw: the State Department on Tuesday announced that the US and China – two of the world's biggest polluters – had agreed to pursue efforts to triple renewable energy capacity globally by 2030, through wind, solar and other renewables.
They are in California for the annual Asia-Pacific Economic Co-operation forum, but they met one-on-one at Filoli Estate, a country house and museum about 25 miles south of San Francisco.