EU nations condemn Hamas for 'using hospitals and civilians as human shields'
14 November 2023, 12:04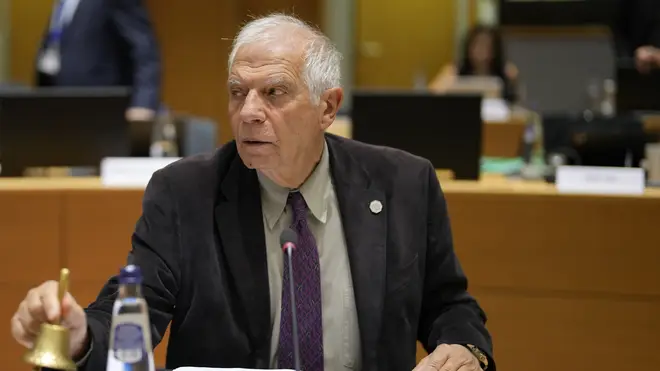 EU foreign affairs chief Josep Borrell also asked Israel 'for maximum restraint and targeting in order to avoid human casualties'.
The 27 European Union nations have jointly condemned Hamas for what they described as the use of hospitals and civilians as "human shields" in the war against Israel.
EU foreign affairs chief Josep Borrell said on Monday that the bloc at the same time was asking Israel "for maximum restraint and targeting in order to avoid human casualties".
At a meeting of foreign affairs ministers, he brandished a statement he issued on behalf of the 27 nations as a show of unity after weeks of often contrasting statements on how the group should address the Israel-Hamas war.
"You know how difficult it has been the last times, after the vote in the United Nations, where countries voted in different ways, to present a completely united approach," Mr Borrell said.
Only hours after EU leaders professed unity over the Israel-Hamas war on October 28, the member states were totally split in a vote on a General Assembly resolution calling for humanitarian truces in Gaza leading to a cessation of hostilities between Israel and Hamas.
Now, the EU nations have said in a statement that they join "calls for immediate pauses in hostilities and the establishment of humanitarian corridors, including through increased capacity at border crossings and through a dedicated maritime route, so that humanitarian aid can safely reach the population of Gaza".
They reiterated their "call on Hamas for the immediate and unconditional release of all hostages", adding: "It is crucial that the International Committee of the Red Cross is granted access to the hostages."
The statement added that "the EU condemns the use of hospitals and civilians as human shields by Hamas".
Latvian foreign minister Krisjanis Karins said: "Hamas is unfortunately using civilian infrastructure and civilians as shields against the Israeli Defence Forces. So the situation is absolutely not black and white."
He added that "no one in the West is interested in supporting any terrorist organisation".
Hamas, which is considered a terrorist organisation by the EU, accused Mr Borrell of distorting facts.
It described his comments as a "cover-up" for Israel to "to commit more crimes against children and defenceless civilians", and called on him to reverse his "outrageous and inhuman comments".
The nations stopped short of calling for a ceasefire.
German foreign minister Annalena Baerbock said she understood "the impetus for a ceasefire" but added that those who seek one must answer questions, "for example, how can the demand for a ceasefire, acutely, and now in this terrible situation, guarantee that Israel's security is assured?", adding: "What happens with the 200 hostages, and who negotiates it in a situation where negotiations barely seem possible?"