Air passenger wears crash helmet to protect himself from coronavirus
29 January 2020, 09:57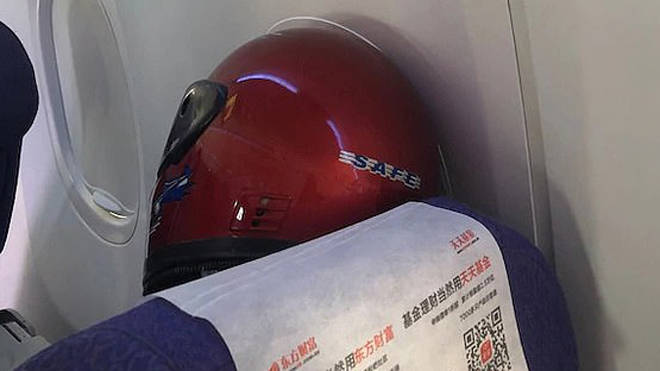 A passenger who feared contracting coronavirus took the step of protecting himself from the contagious airborne disease by wearing a crash helmet on board a flight from China to Australia.
The man was seen on the flight from Shanghai to Perth this morning.
The death toll has risen from the virus from 106 to 132 with over 6,000 cases reported.
People arriving in Australia from China are set to be quarantined on Christmas Island.
READ MORE: British Airways suspends flights as coronavirus death toll rises
People who took the nine-hour flight along with the man in the motorbike crash helmet were told to stay in their seats when it landed while officials sprayed disinfectant around them.
Passenger Marina Jamrina said: "When I transferred in Shanghai I did not see anyone in the airport without a mask".
'There was one guy wearing a [motorcycle] helmet,' another passenger John Fu said.
Other people worried about catching the disease were seen with plastic bags or containers on their heads.
Photos shared on social media in China show people are resorting to desperate measures to protect themselves.
One photo taken at Vancouver airport show a woman with a plastic water bottle over her head at a baggage claim.
Supplies of protective gear are running low in China, and the authorities are clamping down on the practice of hiking prices for face masks.
Reuters reported one pharmacy in Beijing was facing a fine of 3 million yuan after it hiked prices of masks by almost six times.
The store raised the price of a box of 3M brand masks to 850 yuan while the online price was just 143 yuan, state television said.
Officials have investigated 31 price violation cases.
In Shanghai, officials have also closed a shop that was selling knock-off sub-standard masks to customers.