Apple temporarily closing all 42 mainland China stores amid coronavirus outbreak
1 February 2020, 20:50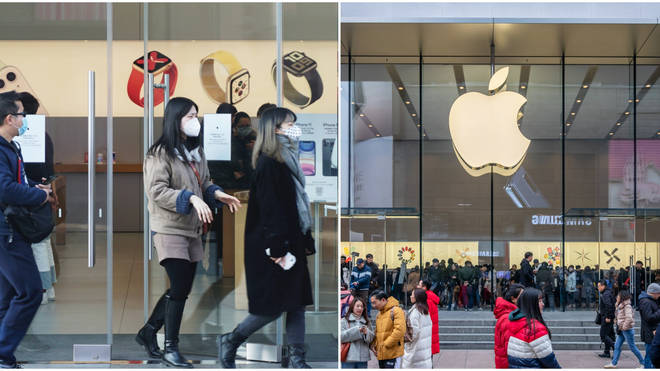 Apple is temporarily closing all 42 of its shops in mainland China amid the coronavirus outbreak.
The iPhone maker is provisionally closing down one of its largest markets based on advice "from leading health experts."
A statement from the tech giant said it planned to shut down shops, corporate offices and contact centres in the country until 9 February "out of an abundance of caution."
READ: UK coronavirus patient identified as University of York student
It added: "Our thoughts are with the people most immediately affected by the coronavirus and with those working around the clock to study and contain it."
Most iPhones and other Apple devices are made in China, the company's third-biggest market in terms of sales, behind the United States and Europe.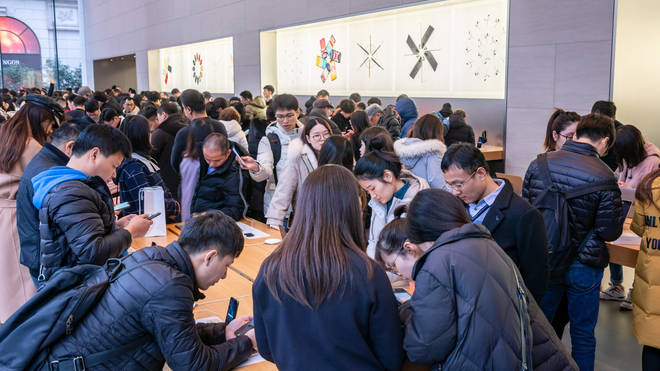 Chief executive Tim Cook explained to analysts on Tuesday that the outbreak had caused so much uncertainty that it would prevent them from offering more specific guidance about its upcoming financial performance.
It comes as the tech giant announced far better results than expected for the Christmas shopping season, propelling Apple's stock price to new highs earlier this week.
However, on Friday, the multinational firm's shares dropped four per cent, quickly dampening spirits.
READ: Britain withdraws diplomats from China as coronavirus death toll rises
Factories that were closed for the Lunar New Year have been forced to delay reopening, Mr Cook added.
He said the company was looking for ways to minimise supply disruptions.
However, some of its suppliers are in Hubei - the Chinese province at the centre of the outbreak that has been under lock-down for more than a week.
Earlier today, a University of York spokesman confirmed that one of the two confirmed coronavirus cases in the UK is a student at the institution.
He added Public Health England (PHE) had advised university officials that the risk of infection being passed on campus is "low."
Speaking on college grounds on Saturday afternoon, University of York Vice-Chancellor Professor Charlie Jeffery provided reassurance to students and staff.
He said: "I want to reassure our students, staff and the wider community that we're working closely with the lead agency Public Health England and other agencies to manage this situation."