Novak Djokovic to be held in Australia detention hotel for days in vaccine row
5 January 2022, 21:35 | Updated: 6 January 2022, 15:00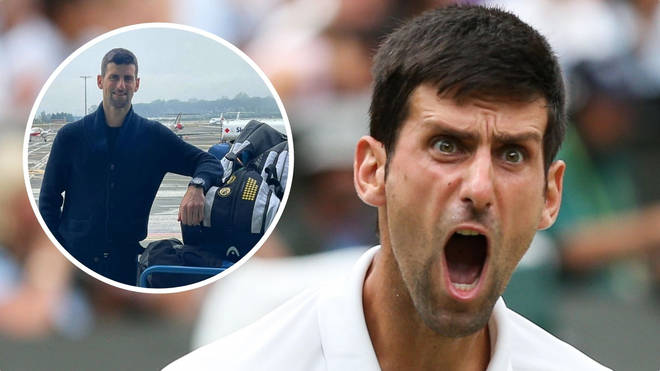 World tennis No1 Novak Djokovic is to be held in Australia until at least Monday before a decision is made on whether he can participate in the Australian Open.
The tennis champion challenged the Australian Border Force's refusal to allow him a visa to enter the country over his Covid vaccination status, and his appeal has been adjourned until 10am on Monday.
Djokovic is facing being deported from Australia after officials said he failed to meet the country's strict entry rules on covid vaccination.
The nine-time Australian Open champion was detained at Melbourne Airport on Wednesday before being taken to a detention hotel to await deportation.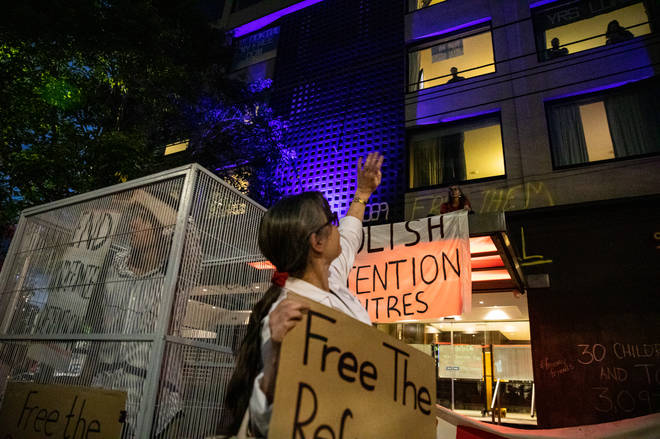 He is hoping to compete in the tournament which begins on January 17.
It was reported that Djokovic - who has never revealed his personal vaccine status but has previously said he is opposed to them - may not have had the necessary documentation to support a medical exemption that allowed him to play at the first grand slam of the year.
Rafael Nadal has spoken out today amid the ongoing controversy, saying "the pandemic has been "very challenging" for the world.
"A lot of families have been suffering a lot during the last two years," he adds.
"It's normal that the people here in Australia get very frustrated with the case because they have been going through a lot of very hard lockdowns."
"The only thing that I can say is I believe in what the people who know about medicine say, and if the people say that we need to get vaccinated, we need to get the vaccine."
Australia's health minister said on Wednesday that Djokovic had failed to provide "appropriate standards of proof" to enter the country.
Read more: Colston Four say 'we rectified history' as they're cleared over statue toppling
Read more: Maxwell trial: Judge asked to investigate after juror says they were sexual abuse victim
Following the announcement of the star's visa cancellation yesterday, Australia's Prime Minister Scott Morrison said "no one is above" Australia's border rules.
He also said the Serb did not have a Covid vaccine exemption after a member of his team is said to have applied for a visa that does not cover those with one.
He has not spoken in public about his vaccination status.
Mr Djokovic's visa has been cancelled. Rules are rules, especially when it comes to our borders. No one is above these rules. Our strong border policies have been critical to Australia having one of the lowest death rates in the world from COVID, we are continuing to be vigilant.

— Scott Morrison (@ScottMorrisonMP) January 5, 2022
The Australian Border Force (ABF) said in a statement: "The ABF can confirm that Mr Djokovic failed to provide appropriate evidence to meet the entry requirements to Australia, and his visa has been subsequently cancelled.
"Non-citizens who do not hold a valid visa on entry or who have had their visa cancelled will be detained and removed from Australia.
"The ABF can confirm Mr Djokovic had access to his phone.​"
It comes after there had been reports that the tennis player had not been allowed to use his phone while awaiting the update on whether he would be allowed into the country.
His father, Srdjan Djokovic, told Serbian news station B92 that "Novak is currently in a room which no one can enter".
He added: "In front of the room are two policemen."
His arrival caused a huge backlash because he was granted a Covid vaccination exemption which allowed him to compete in the upcoming Australian Open in a country that has enforced tight coronavirus rules.
Djokovic has refused to publicly disclose what his vaccine status is.
It has been reported a worker in his support team applied for a visa sub-class that does not apply to people with a Covid vaccine exemption. Reports say the Australian Border Force discovered the mix-up while Djokovic was flying in to Australia.
Amid the backlash, Mr Morrison had already warned that Djokovic needed to prove that he has a genuine medical exemption from COVID-19 vaccination if he wanted to play in the Australian Open.
However, Serbia's president Aleksandar Vucic showed support for Djokovic amid the controversy.
He wrote on Instagram: "I just finished a phone conversation with Novak Djokovic.
"I told our Novak that the whole of Serbia is with him, and that our authorities are taking all measures to stop the harassment of the best tennis player in the world in the shortest possible period.
"In accordance with all norms of international public law, Serbia will fight for Novak Djokovic, for justice and truth."
The Serbian tennis star was set defend his Grand Slam title 24 hours after he announced he had received an exemption to play in the tournament.
Mr Morrison said Djokovic "won't be treated any different to anyone else" and will be banned from entering the country if the evidence of his medical exemption is deemed "insufficient."
Organisers of the tournament insist Djokovic had not benefited from any "special favour" after being granted the mystery medical exemption.
Anger at Djokovic came as reports said a 17-year-old Indian tennis player, Aman Dahiya, was refused entry because he had not been vaccinated, despite India only recently rolling out doses to his age group.
He had tried to get jabbed in other countries in order to compete but was unable to due to logistic and funding problems, the Times of India said.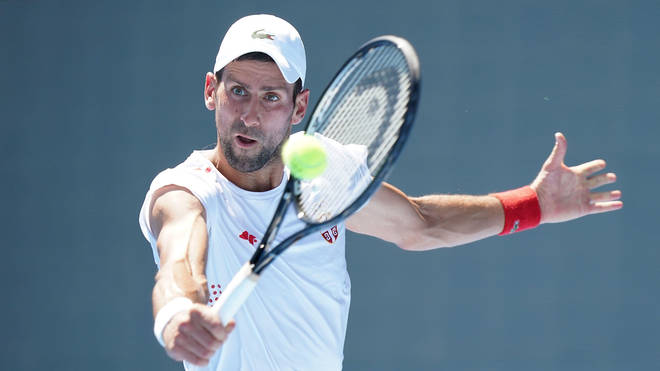 All players and staff at this month's tournament must be vaccinated or have an exemption granted by an expert independent panel.
Tournament director Craig Tiley said 26 unvaccinated players applied for exemption, with only a "handful" granted.
"We made it extra difficult for anyone applying for an application to ensure it was the right process and to make sure the medical experts deal with it independently," Tiley told The Today Show on Australia's Channel Nine.
"There has been no special favour or special opportunity granted to Novak Djokovic or any tennis player," he said.
"There's been a process that goes above and beyond the normal process for everyone."
The Australian Open is scheduled to begin on January 17 in Melbourne.
Reasons for Djokovic being permitted to compete will remain private, he said. But calls are growing for the reasons to be revealed. He will not have to enter two weeks of hotel quarantine like other unvaccinated arrivals due to the special exemption he has been granted.
Criteria listed by the Australian Technical Advisory Group as permissible reasons for a medical exemption range from acute major medical conditions to any serious adverse event attributed to a previous dose of Covid-19 vaccine.
A possible explanation is that Djokovic has contracted coronavirus for a second time at some point in the past six months, having previously caught it during his much-criticised Adria Tour event in Belgrade in 2020.
That would negate the need for vaccination, according to rules published last year by one of two independent medical panels involved in the decision.
The build-up to the season's first grand slam has been dominated by whether Djokovic would compete.
Speculation was heightened after he pulled out of the Serbia team competing at the ATP Cup in Sydney without explanation.
On Tuesday, the 34-year-old Serbian posted on Instagram that he was "heading down under with an exemption permission".
The news was later confirmed in a statement from the Australian Open.
The tournament provides Djokovic with another chance to move clear of rivals Roger Federer and Rafael Nadal, with the three having each won 20 grand slam titles.
He was challenging for the calendar year grand slam in 2021 but fell short in the US Open final by losing to Daniil Medvedev, the man he beat in last year's Australian Open final.