Australia's PM denies raging wildfires are due to climate change
22 December 2019, 08:49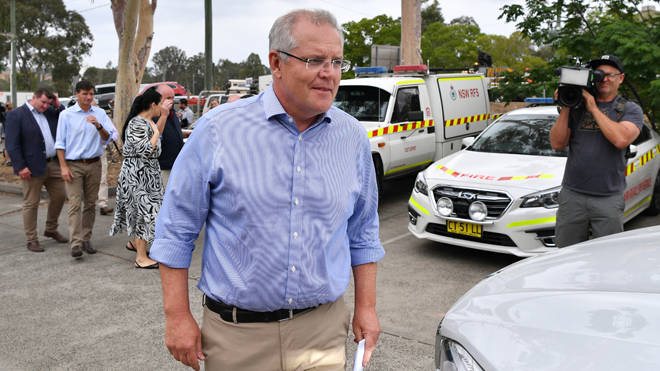 Australia's Prime Minister has cut short a family holiday in Hawaii to address the killer wildfires that are raging in three states down under.
Scott Morrison apologised for taking a trip abroad while the fires rage, killing at least nine people and destroying hundreds of homes and left millions of hectares of land scorched.
Mr Morrison said: "I get it that people would have been upset to know that I was holidaying with my family while their families were under great stress."
"If you had your time over again and you had the benefit of hindsight, we would have made different decisions," Mr Morrison said.
"I am sure Australians are fair-minded and understand that when you make a promise to your kids you try and keep it. But as prime minister, you have other responsibilities and I accept that and I accept the criticism."
Mr Morrison said this was not a time for political point-scoring but a "time to be kind to each other".
He conceded that climate change was contributing to changing weather patterns, but denied that it had directly caused Australia's wildfires.
"It's not a credible suggestion to make that link," he said.
"There is no argument ... about the links between broader issues of global climate change and weather events around the world," he said.
"But I'm sure people equally would acknowledge that the direct connection to any single fire event."
He said he knew Australians were anxious about the fires but insisted that the emergency response was "the best in the world".
The country continues to battle the "catastrophic" fires.
A person in South Australia was confirmed as the latest casualty on Saturday and 15 homes destroyed by a fire 25 miles from state capital Adelaide.
Rural Fire Service Commissioner Shane Fizsimmons described Saturday as an "awful day" for firefighters as strong southerly winds fanned more than 100 fires in New South Wales alone.
Dozens of homes have been lost since Thursday in massive wildfires, including the Gospers Mountain blaze that covered more than 460,000 hectares (1.1 million acres).
A fire-generated thunderstorm formed over one blaze at Shoalhaven on Saturday, escalating the fire danger.
Thirty firefighters from Canada and nine from the United States were among fresh crews set to join the battle against the fires on Sunday.