Catalonia leader jailed for 13 years over independence referendum
14 October 2019, 11:28
Spain's Supreme Court has sentenced nine Catalan separatist leaders to between nine and 13 years in prison for sedition over their role in an independence referendum in 2017.
Three further defendants were found guilty of disobedience and fined, but will not serve prison sentences.
The 12 politicians and activists had all denied the charges.
"The Supreme Court has condemned Oriel Junqueras to 13 years of prison... on grounds of sedition and the misuse of public funds," the ruling said, handing 12 years to three other former regional ministers.
Oriol Junqueras, the region's former vice president, was a key figure in the Catalan separatist movement for a failed independence bid that sparked Spain's worst political crisis in decades.
Former Catalan Cabinet members Santiago Vila, Meritxell Borras and Carles Mundo, were fined for disobedience.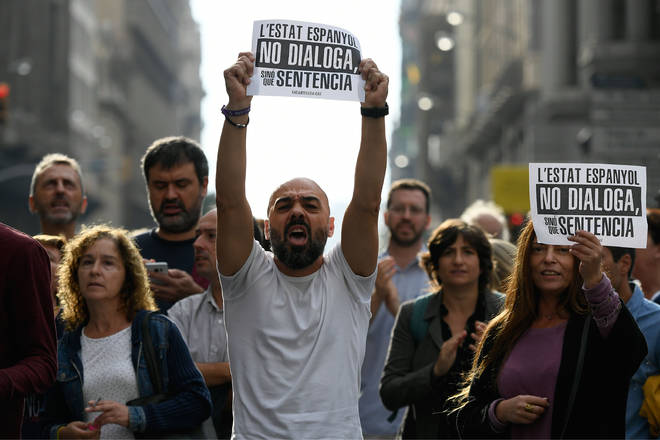 The court's decision was another milestone in the long struggle for separatists who want Catalonia to break away from Spain and create a new European state.
The Spanish constitution insists the country is "indivisible".
At the centre of the prosecutors' case was the October 1 2017 referendum that the Catalan government held even though the country's highest court had disallowed it.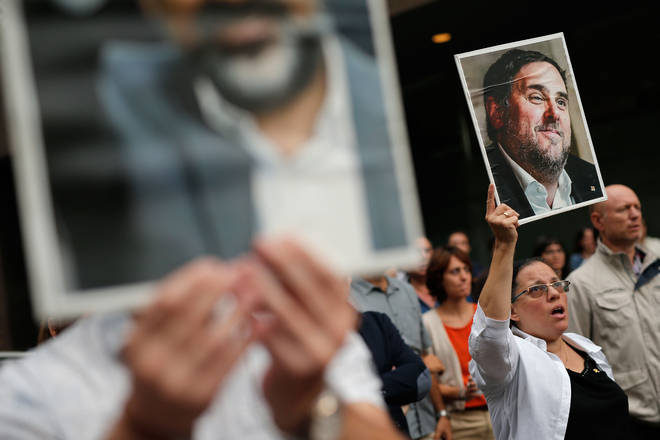 Josep Rull, Catalonia's former regional government councillor, was sentenced to 10 years and six months in prison.
He said: "If they had judged us on the facts, they would have acquitted us. Because they have judged ideas, they have condemned us.
"Condemning us, they have condemned the 2.5 million Catalans who voted on 1 October in one of the most extraordinary exercises of democracy that Europe has seen in the 21st century."
Carles Puigdemont, former President of the Government of Catalonia tweeted on Monday: "A total of 100 years of prison. How horrible.
"Now more than ever, we will be with you and your families. For the future of our sons and daughters. For democracy. For Europe. For Catalonia."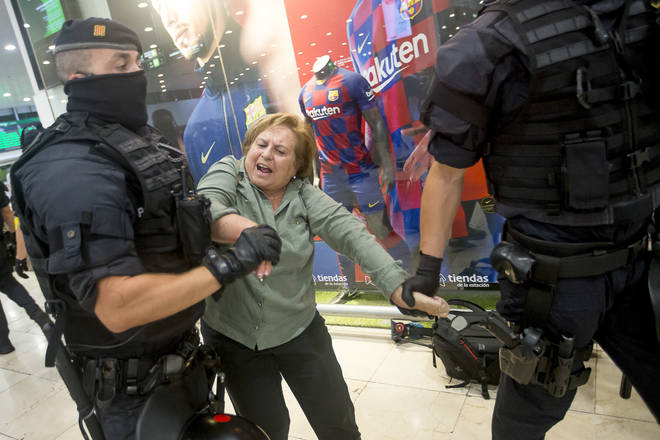 Grassroots pro-secession groups have said that if any of the defendants were found guilty they would organise protests and "peaceful civil disobedience".
Hundreds of extra police were deployed to the region in anticipation of the ruling.
First Minister of Scotland Nicola Sturgeon expressed solidarity with the politicians and their families in a tweet.
These politicians have been jailed for seeking to allow the people of Catalonia to peacefully choose their own future. Any political system that leads to such a dreadful outcome needs urgent change. My thoughts and solidarity are with all of them and their families. https://t.co/OSaknVGzYY

— Nicola Sturgeon (@NicolaSturgeon) October 14, 2019
Finnish politician Mikko Kärnä also shared his outrage on Twitter.
Spain sentenced #Catalonia's independence leaders to jail for 9-13 years for organizing a referendum. They are political prisoners and they're jailed for defending democracy. I will submit a written question to the finnish government. We must invoke EU's art.7 sanctions to Spain.

— Mikko Kärnä (@KarnaMikko) October 14, 2019
In the 2017 Catalan independence referendum, voters answered with "Yes" or "No", to "Do you want Catalonia to become an independent state in the form of a republic?".
The "Yes" side won with 2,044,038 (92.01%) voting for independence.
The referendum was declared illegal on 7 September 2017 and suspended by the Constitutional Court of Spain after a request from the Spanish government, who declared it a breach of the Spanish Constitution.