Coronavirus 'not as bad as people make out' claims victim who recovered from illness
30 January 2020, 10:48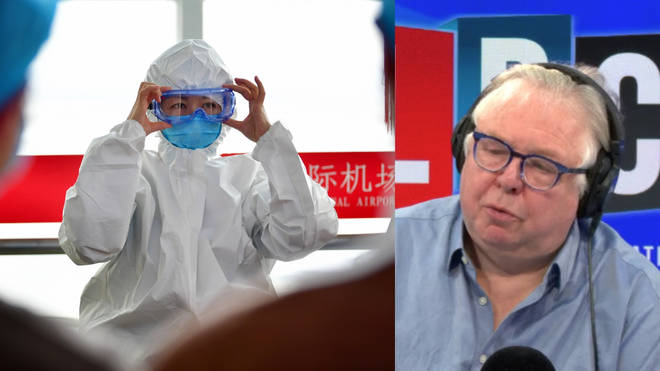 Coronavirus is "not as bad as people make out" and is only serious for the elderly or those with pre-existing health conditions, according to a man who claims to have recovered from the virus.
Speaking to LBC's Nick Ferrari, John Read claims he contracted the deadly coronavirus while in Wuhan.
The virus has swept across China but is believed to have originated in the city. The death toll currently stands at 170 and there are nearly 6,000 confirmed cases in China.
But Mr Read said he was able to recover from the illness within weeks, even without taking antibiotics.
He added: "I got the virus on the 5th of December. I had the flu and the only reason I went to hospital was because I was having trouble breathing.
"I had a full blood test, full health check, came home and just two weeks ago called the hospital and asked for my results. They informed me that I actually did have it.
"As a principle, I don't take antibiotics. Because this virus has no cure, it's basically just waiting it out until it gets better."
Mr Ferrari asked the Wuhan local how debilitating the virus was. While it took him a couple of weeks to get over the coronavirus, he claims it is only life-threatening to people who have a pre-existing condition.
Mr Read continued: "You're not going to be running marathons. It really only affects the old and people with pre-existing health problems.
"Normal everyday people will maybe be out of work for a week and then you'll be ready to go back.
"It took me about two weeks to get over it. I had a very bad cough at the time, my voice was dead, so I had to take longer out of work."
Mr Ferrari asked the caller "how widespread did it become?" and did the Chinese government "tell you to stay in your apartment"?
The caller concluded: "At the moment I am self-isolating, we're not meant to be out in the street.
"It's just staying at home and making sure they're eating the right foods and you will get better. It's not as serious as the media is making it out to be.
"Yes, it's like the flu that's going around."
The Government is still negotiating with Chinese authorities over a flight to evacuate British nationals from Wuhan, a minister has said.
The Foreign Office has said that the flight will not now take place on Thursday as the Government had hoped.
Nick Gibb, the School Standards Minister, told Sky News: "There are some difficult issues that are being negotiated at very senior levels between the British Government and the Chinese Government.
"Our priority is to ensure the safety and welfare of British nationals in Wuhan and ensure they do return to the UK as soon as possible."
Meanwhile, the World Health Organisation (WHO) emergency committee is expected to meet on Thursday to decide whether to declare an international public health emergency.
The WHO said the "whole world needs to be on alert" over the new coronavirus outbreak.
Its emergency committee said last week it was "too early" to pronounce a global health emergency.