Coronavirus: Iran frees 85,000 prisoners as it battles pandemic
17 March 2020, 09:50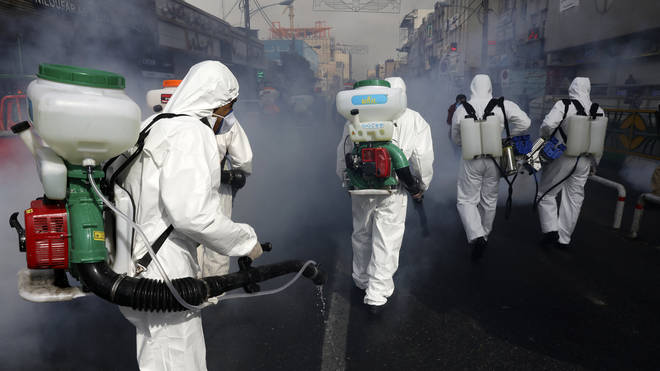 Iran has temporarily freed around 85,000 prisoners as it continues to battle the world's third worst outbreak of the coronavirus pandemic, according to a spokesman for its judiciary.
In a statement on Tuesday, Gholamhossein Esmaili said the action was taken as "precautionary measures" were introduced "to confront the outbreak".
He also confirmed that up to half of those freed were "security-related prisoners".
It comes after a UN special rapporteur on human rights in Iran asked last week for Tehran to temporarily release all political prisoners from its overcrowded and disease-stricken jails.
READ MORE: [Live] UK ramps up measures after 250,000 deaths prediction
A British-Iranian woman, Nazanin Zaghari-Ratcliffe, is currently being held in jail in Tehran after being convicted of spying in 2016, despite Iran failing to provide evidence for the charge.
Last month, her husband said he believed his wife had contracted the virus while in jail.
He later said a doctor had told her that her symptoms were consistent with the illness, but was unable to test her.
The doctor reportedly went on to say her symptoms "had stabilised" and she would hopefully start to recover.
It is not clear whether Mrs Zaghari-Ratcliffe is among those freed on Tuesday.
READ MORE: Who should self-isolate and for how long?
Iran is currently battling against the third worst outbreak of COVID-19, behind China and Italy.
There have, so far, been 14,991 cases confirmed Iran, with 853 deaths, according to data from Johns Hopkins University.
Globally, more than 182,000 people have contracted the virus, and more than 7,000 people have died.