Madrid doctor battling coronavirus 'with push-ups' reveals effect of disease on his lungs
11 March 2020, 14:48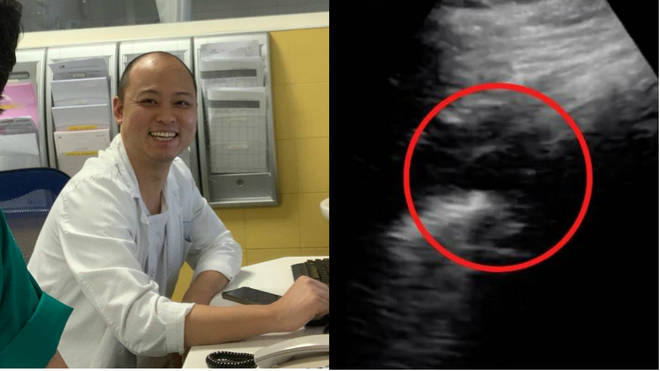 A doctor diagnosed with coronavirus has revealed the effect that Covid-19 has had on his lungs, sharing a series of ultrasound videos showing the progress of the disease.
Yale Tung Chen, who works as an emergency physician at the Hospital Universitario La Paz in Madrid, told LBC News it all started in early March while he was wrapping up a day of treating COVID-19 patients.
He said: "At the end of the shift, I started to feel unwell. In that moment, I wondered if it could be coronavirus, but did not have any epidemiological contacts to justify my fear."
READ MORE: Chancellor Rishi Sunak unveils £30bn budget package to combat coronavirus
But it was the 35-year-old's concern of being "even the slightest threat" to his wife and children - whom he was due to walk home to - that pushed him to get tested.
He said he felt "relieved" when that test eventually came back positive two days later.
"From that moment on, I had myself isolated in a room in my house, and avoided any contact with anybody in the house."
Day 1
Mr Tung Chen began his diary on Monday, 9 March, and said he had developed "a dry cough and a strong headache".
The "low-grade fever" he had experienced over the weekend prior to receiving his test result "soon disappeared," he told LBC News.
But "the most worrisome part of the disease", he added, "is the involvement of the lungs".
"It was reassuring to see they were completely normal."
READ MORE: US coronavirus doctors 'told to wear trash bags' as safety supplies run low
It was on this day that his wife and two children also started to exhibit "mild symptoms", and they called public authorities to conduct some further tests.
He said: "That is probably the most anxious part - to not be able to be with my family, my kids, at this moment."
Day 2
"The headache and the sore throat started to fade away on day two," Mr Tung Chen said, but added that signs of pneumonia had begun to surface.
He said: "On the lungs there appeared a little effusion [liquid] with signs of pneumonia on the back."
In comparing his ultrasound from the day before, the physician said he noticed a black mark appear - a sign of liquid and a possible indicator of pneumonia.
READ MORE: New York doctor who survived Ebola reveals just how afraid he is of coronavirus
COVID-19 can cause pneumonia, which is an illness that leads to the swelling of tissue in the lungs and the filling of tiny sacs at the end of the breathing tubes with fluid.
According to the NHS, mild pneumonia can be treated at home - as Mr Tung Chen is doing - while others with weaker immune systems may need treatment in hospital.
"I am on ibuprofen and Tylenol [paracetamol], drinking lots of water and doing some push ups every day," he said, adding: "I'm doing fine."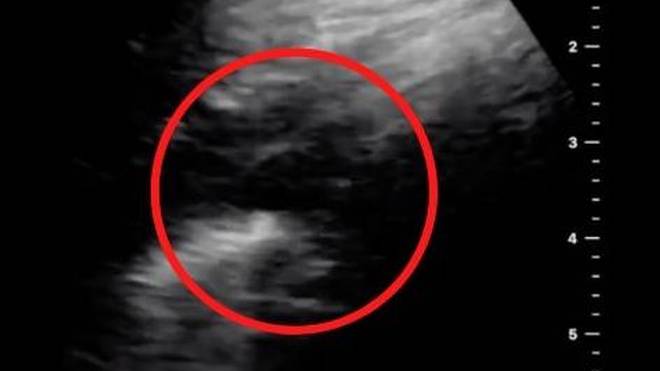 Day 3
Mr Tung Chen said: "Today the cough went heavily up, and has now calmed. Diarrhoea started."
Referring to his ultrasound for the third day, he said it "remained similar" to the effusion seen on day two, but it is "maybe slightly better".
He added: "The surrounding white thing, the lung, looks better today."
READ MORE: 'Unusual' last request to NHS doctor before coronavirus patient put on ventilator
Remaining positive, the doctor-patient said he expected his symptoms to "completely resolve by tomorrow or the day after."
"I'm feeling well, and there is no data [symptoms, medical background, ultrasound] to say the opposite."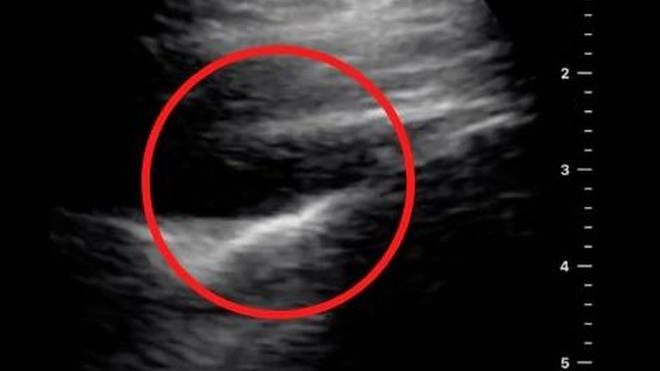 READ MORE: Healthcare workers reveal facial sores after wearing protective gear for hours on end
Mr Tung Chen is now just awaiting results for his family's tests, which he says are yet to return after three days.
He added: "But I understand that we are in the middle of an epidemic, and right now [the doctors] have other priorities."
Day 4
Mr Tung Chen told LBC News he was feeling "awfully tired" by Thursday - four days after his diagnosis, and almost a week after he started feeling unwell.
He pointed toward his ultrasound for the day and said: It "shows a pneumonia in the middle of the screen - it gives like a white tail."
Day 5
It is now a week since the doctor initially started to feel unwell, and five days since his diagnosis with Covid-19.
He reported his effusions having been "resolved" from his latest ultrasound, but "subpleural consolidations" - another sign of pneumonia - having spread.
Despite this, he said on Twitter he was "feeling better," having moved on to use hydroxychloroquine - a prescribed medication with antiviral activity.
His family had also received their test results back, which were found to be negative for the virus.
Day 6
Mr Tung Chen reported a "significant" improvement in his lungs from the day before, and said his cough had also lessened.
The tiredness was still present, but, overall, an improvement.
Day 7
A week after his diagnosis, Mr Tung Chen said his cough and weakness had yet again grown "worse", but had not experienced any difficulty with his breathing nor fever.
His oxygen saturation, which is the amount of oxygenated haemoglobin in his blood, had dropped from 98% to 96% - but was still within the average range.
Day 8
"Still no dyspnea [trouble with breathing] or red flag symptoms," the doctor said, adding that his lower lobe on his left lung was looking "much better".
With this, he reported "less cough" but a "similar weakness" from the day before.
Oxygen saturation remained at 96%.
Day 9
"Feeling slightly better," on day nine, he wrote on Twitter, and reported much of the same without the "red flag symptoms".
Oxygen saturation rose slightly to 97% - within the average range.
Day 10
While feeling less tired on day ten, Mr Tung Chen said new symptoms - the loss of sense of taste and smell - had presented themselves.
These are new symptoms, but not "red flag symptoms", he noted.
Oxygen saturation remained at 97%.
Day 11
"Unable to endure small efforts," the doctor said, despite reporting feeling less tired.
He continued to take paracetamol and hydroxychloroquine to ease the symptoms - none of which presented any red flags.
Day 12
Dr Tung Chen said his sense of taste and smell had finally started to return after their disappearance days earlier, and that he had also started to feel "better".
However, some symptoms such as the cough, nausea and diarrhoea were still persisting, and he had noticed a "small effusion" on his ultrasound.
He said he had now added azithromycin - an antibiotic used to treat chest infections - to his daily medication.
Day 13
On the thirteenth day since his diagnosis with coronavirus, the doctor said his persisting symptoms had now started to wane.
Day 14
Exactly two weeks after the diagnosis, Mr Tung Chen said his symptoms had lessened again, while his appetite had also returned.
The effusion was also no longer present on the ultrasound.
Day 15
A similar cough presented itself on day 15, and diarrhoea was also present - believed to be caused by the antibiotic azithromycin he had been taking for the previous few days.
Speaking to well-wishers, he confirmed he was due to get re-tested in the next couple of days, and hoped to "be back at work" by next week.
Day 16
Today was for "good energy and high spirit," Mr Tung Chen said, albeit for a "similar dry cough."
Day 17
The cough had finally begun to dissipate along with the nausea. To replace these symptoms were the returning of more of an appetite and energy.
"Waiting on the re-test on Friday," he said.
Day 18
Much of the same to previous days.
Day 19
Just one day before being re-tested for the virus, Mr Tung Chen said he had, again, started to cough and feel weakness.
He added levofloxacin - an antibiotic used to treat bacterial infections - to his medication.
Speaking earlier about the response to his public documentation of his experience with the illness, he said he was "overwhelmed" by the "warmness and encouragement received".
LBC News will continue to follow Mr Tung Chen's journey as he continues his recovery.
Spain - where Mr Tung Chen lives - is the fourth worst-affected country in world after the US, China and Italy.
It has confirmed more than 64,059 cases of Covid-19, while more than 3,000 people have lost their lives to the disease.
Globally, more than half a million people have tested positive for the illness, with more than 25,000 deaths.