Palestinians call for evacuation of Gaza's largest hospital amid battles outside
14 November 2023, 22:14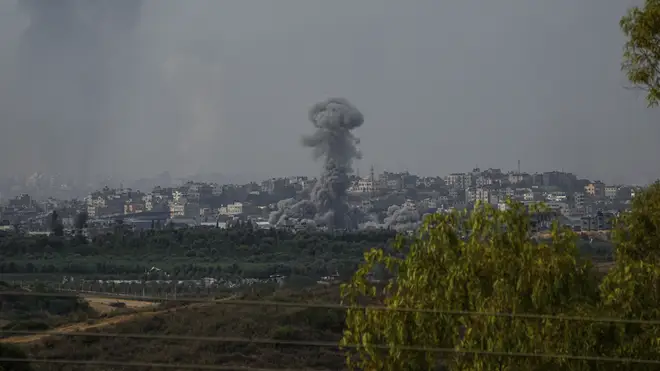 The stand-off at Shifa and other hospitals comes as Israeli forces control swathes of Gaza City and the surrounding northern part of the Gaza Strip.
Palestinian authorities have called for a ceasefire to evacuate three dozen newborns and other patients trapped inside Gaza's biggest hospital as Israeli forces battle Hamas in the streets just outside and seize more ground across northern Gaza.
For days the Israeli army has encircled Shifa Hospital, determined to seize the facility, which it says Hamas hides in and beneath to use civilians as shields for its main command base.
Hospital staff and Hamas deny the claim.
Meanwhile, hundreds of patients, staff and displaced people are trapped inside, with supplies dwindling and without electricity to run incubators and other life-saving equipment.
With refrigeration out for days, staff on Tuesday were digging a mass grave in the yard for more than 120 bodies in the mortuary, health officials said.
The stand-off at Shifa and other hospitals comes as Israeli forces control larger swathes of Gaza City and the surrounding northern part of the Gaza Strip, saying they are driving out and killing Hamas fighters.
Israel's defence minister Yoav Gallant said in a nationally televised press conference on Tuesday night that Hamas has "lost control" of northern Gaza and that Israel has made significant gains in Gaza City.
But asked about the time frame for the war, Mr Gallant said: "We're talking about long months, not a day or two."
Israel has vowed to crush Hamas rule in Gaza after the militants' October 7 surprise attack into Israel in which they killed some 1,200 people and dragged roughly 240 hostages back to Gaza.
But even as its troops control more of a devastated north Gaza, the Israeli government has acknowledged it does not know what it will do with the territory after Hamas's defeat.
The onslaught – one of the world's deadliest and most intense bombardments this century – has been disastrous for Gaza's 2.3 million Palestinians.
More than 11,200 people, two-thirds of them women and minors, have been killed in Gaza, according to the Palestinian Health Ministry in Ramallah.
About 2,700 people have been reported missing.
The ministry's count does not differentiate between civilian and militant deaths.
Almost the entire population of Gaza has squeezed into the southern two-thirds of the tiny territory, where conditions have been deteriorating even as bombardment there continues.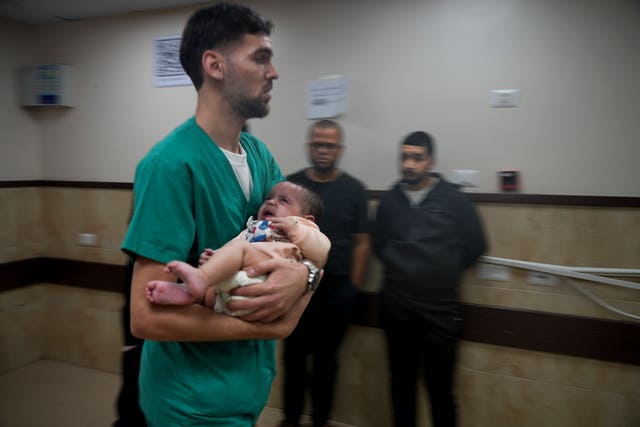 About 200,000 fled the north in recent days amid the intensifying fighting, the UN humanitarian office said on Tuesday.
Tens of thousands are believed to remain in the north.
Hamas released a video late on Monday showing one of the hostages, who identifies herself as 19-year-old Noa Marciano, before and after she was killed in what Hamas said was an Israeli strike.
The military later declared her a fallen soldier, without identifying a cause of death.
She is the first hostage confirmed to have died in captivity.
Four were released by Hamas and a fifth was rescued by Israeli forces.
Fighting has raged for days around Shifa Hospital, a complex several city streets across at the centre of Gaza City that has now "turned into a cemetery", its director said in a statement.
The Health Ministry said 40 patients, including three babies, have died since Shifa's emergency generator ran out of fuel on Saturday.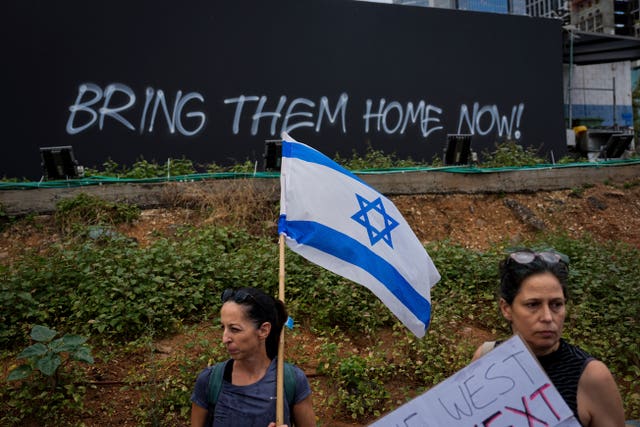 Another 36 babies are at risk of dying because there is no power for incubators, according to the ministry.
The Israeli military said it had started an effort to transfer incubators to Shifa.
But they would be useless without electricity, said Christian Lindmeier, a spokesman for the World Health Organisation.
He said the only way to save the newborns was to move them out of Gaza.
"Another hospital under siege or under attack is not a viable solution. Nowhere is safe in Gaza right now," Mr Lindmeier told The Associated Press.
He said an evacuation would require specialised equipment and a ceasefire along the route.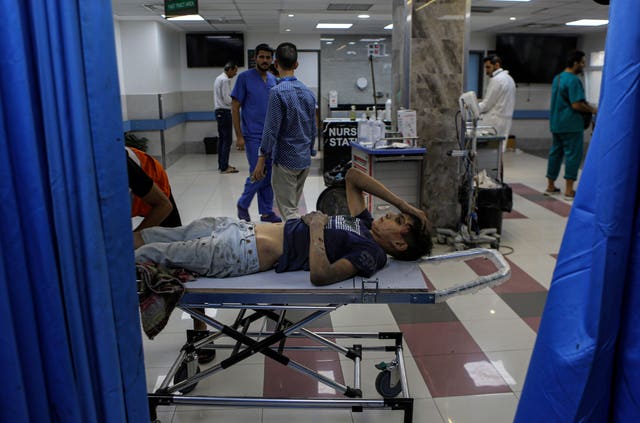 The Health Ministry has proposed evacuating the hospital with the supervision of the International Committee of the Red Cross and transferring the patients to hospitals in Egypt, but has not received any response, ministry spokesman Ashraf al-Qidra said.
While Israel says it is willing to allow staff and patients to evacuate, some Palestinians who have made it out say Israeli forces have fired at evacuees.
UN and Palestinian health officials say it is too dangerous to move the most vulnerable patients without proper ambulances and equipment.
Israel says its claims of a Hamas command centre in and beneath Shifa are based on intelligence but has not provided visual evidence to support them.
Denying the claims, the Gaza Health Ministry says it has invited international organisations to investigate the facility.
The Palestinian Red Crescent said on Tuesday it had evacuated remaining patients, doctors and displaced families from another Gaza City hospital, Al-Quds, "after more than 10 days of siege, during which medical and humanitarian supplies were prevented from reaching the hospital".
In a post on X, formerly Twitter, it blamed the Israeli army for bombarding the hospital and firing at those inside.
The White House's national security council spokesperson John Kirby said the US has unspecified intelligence from a variety of sources that Hamas and another Palestinian militant group use Shifa and other hospitals and tunnels underneath them to hide and support military operations and hold hostages.
But Mr Kirby said the US does not support air strikes on hospitals and does not want to see "a firefight in a hospital where innocent people, helpless people, sick people are simply trying to get the medical care that they deserve".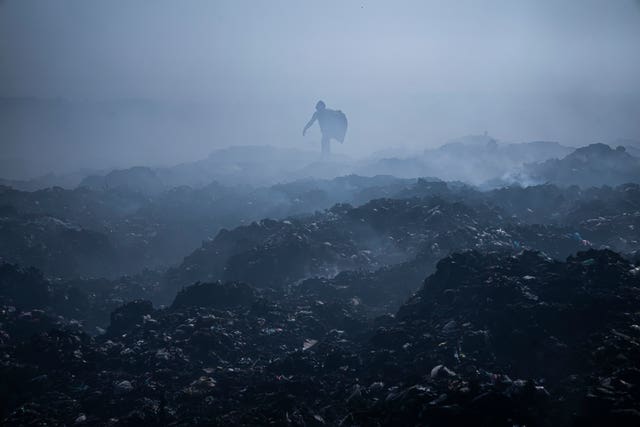 On Monday, the military released footage of a children's hospital in Gaza City that its forces entered over the weekend, showing weapons it said it found inside, as well as rooms in the basement where it believes militants were holding hostages.
The video showed what appeared to be a hastily installed toilet and ventilation system in the basement.
The Health Ministry rejected the allegations, saying the area had been turned into a shelter for displaced people.
Independent accounts of the fighting in Gaza City have been nearly impossible to gather, as communications to the north have largely collapsed.
Videos released by the Israeli military show troops moving through the city, firing into buildings.
Bulldozers push down structures as tanks roll through streets surrounded by rubble and partially collapsed towers.
The videos portray a battle where troops are rooting out pockets of Hamas fighters and tearing down wherever they find them.
The military says it is also gradually dismantling the group's tunnel network.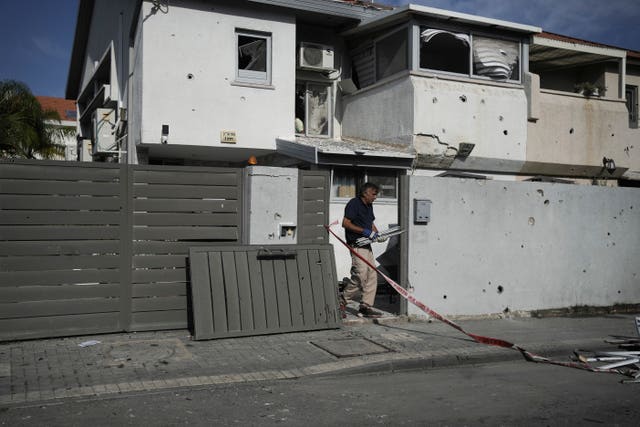 Israel says it has killed several thousand fighters, including important mid-level commanders, while 46 of its own soldiers have been killed in Gaza.
The military says Hamas has lost control in the north, and in recent days Hamas rocket fire into Israel – constant throughout the war – has waned.
Details of the Israeli account and the extent of Hamas losses, however, could not be independently confirmed.
One Israeli commander in Gaza, identified only as Lt Col Gilad, said in a video that his forces near Shifa Hospital had been seizing government buildings, schools and residential buildings where they found weapons and eliminated fighters.
After each was cleared, "the location was demolished", he said.
The army said it had captured Gaza's legislature building – about two streets from Shifa – the Hamas police headquarters and a compound housing Hamas's military intelligence headquarters.
The captured buildings carry high symbolic value, though it was unclear what their strategic value is.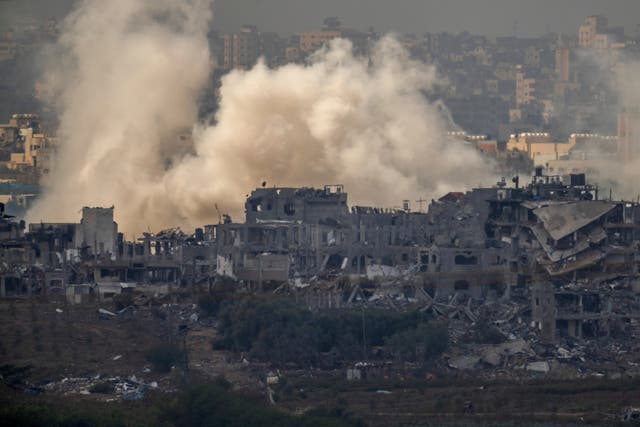 Hamas fighters are believed to be positioned in underground bunkers.
Israeli news sites showed pictures of soldiers holding up the Israeli flag and military flags in celebration inside some of the buildings.
Israel has urged civilians in the north to flee south, but southern Gaza is not much safer.
Israel carries out frequent air strikes throughout Gaza, hitting what it says are militant targets but often killing women and children.
Some 1.5 million Palestinians, more than two thirds of Gaza's population, have fled their homes, and UN-run shelters in the south are severely overcrowded.
People stand in line for hours for scarce bread and brackish water.
Rubbish is piling up, sewage is flooding the streets and taps run dry because there is no way to power water systems.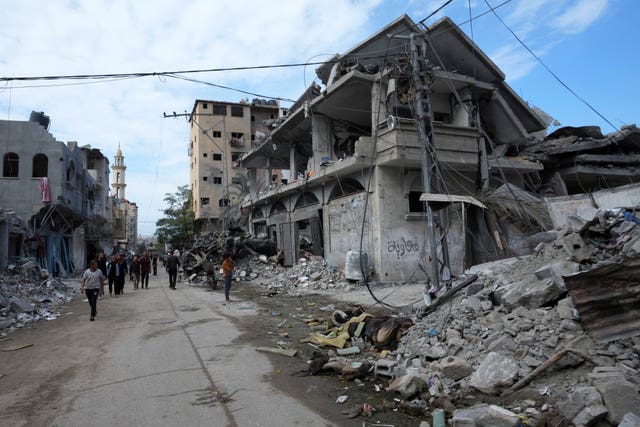 Israel has barred fuel imports since the start of the war, saying Hamas would use them for military purposes.
At a tent camp outside a hospital in the central town of Deir al-Balah, people trudged through mud as they stretched plastic tarps over flimsy tents.
"All of these tents collapsed because of the rain," said Iqbal Abu Saud, who had fled Gaza City with 30 of her relatives.
"How many days will we have to deal with this?"
The UN agency for Palestinian refugees, which is struggling to provide basic services to more than 600,000 people sheltering in schools and other facilities in the south, said on Tuesday that its fuel storage facility in Gaza is empty and that it will soon end relief operations.
That would halt most aid efforts, including bringing limited supplies of food and medicine in from Egypt.
"Without fuel, the humanitarian operation in Gaza is coming to an end. Many more people will suffer and will likely die," said Philippe Lazzarini, the commissioner-general of the UNRWA.
Israel has repeatedly rejected allowing fuel into Gaza, saying it will be diverted by Hamas for military use.