Ukrainian troops work to advance on Russian-held side of key river
18 November 2023, 14:04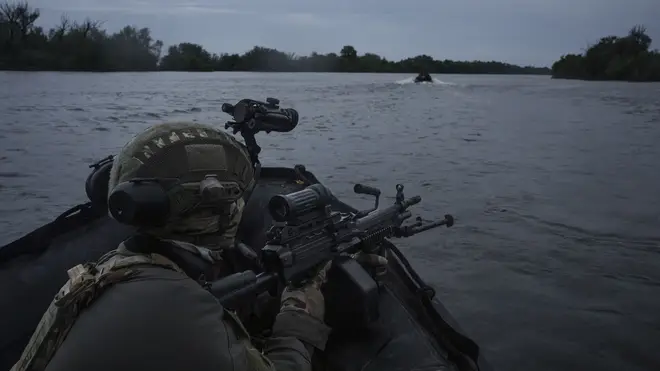 The General Staff of Ukraine's armed forces said its troops there had repelled 12 attacks by the Russian army.
Ukrainian troops are working to push back Russian forces positioned on the east bank of the Dnieper River, the military said, a day after Kyiv claimed to have secured multiple bridgeheads on that side of the river that divides the country's partially occupied Kherson region.
Ukraine's establishment of footholds on the Russian-held bank of the Dnieper represents a small but potentially significant strategic advance in the midst of a war largely at a standstill.
The General Staff of Ukraine's armed forces said its troops there had repelled 12 attacks by the Russian army between Friday and Saturday.
The Ukrainians now are trying to "push back Russian army units as far as possible in order to make life easier for the (western) bank of the Kherson region, so that they get shelled less", Natalia Humeniuk, spokesperson for Ukraine's Southern Operational Command, said.
In response, the Russian military used "tactical aviation" – including Iranian-made Shahed exploding drones, to try to pin down Ukraine's troops, Ms Humeniuk said.
The wide river is a natural dividing line along the southern battlefront. Since withdrawing from the city of Kherson and retreating across the Dnieper a year ago, Moscow's forces have regularly shelled communities on the Ukrainian-held side of the river to prevent Kyiv's soldiers from advancing toward Russia-annexed Crimea.
Elsewhere, air defences shot down 29 out of 38 Shahed drones launched against Ukraine, military officials reported. One of the drones that got through struck an energy infrastructure facility in the southern Odesa region, leaving 2,000 homes without power.
In the capital, hundreds of people gathered to oppose corruption and to demand the reallocation of public funds to the armed forces. The demonstration was the 10th in a series of protests in Kyiv amid anger over municipal projects.
On Saturday, protesters held Ukrainian flags and banners bearing slogans such as "We need drones not stadiums".
"I've organised demonstrations in more than 100 cities protesting against corruption in Ukraine and for more money, which should go to the army," Maria Barbash, an activist with the organisation Money for the Armed Forces, said.
"The first priority of our budget — local budgets and the central budget — should be the army."