French firefighters clash with riot police on streets of Paris in row over pay
28 January 2020, 15:47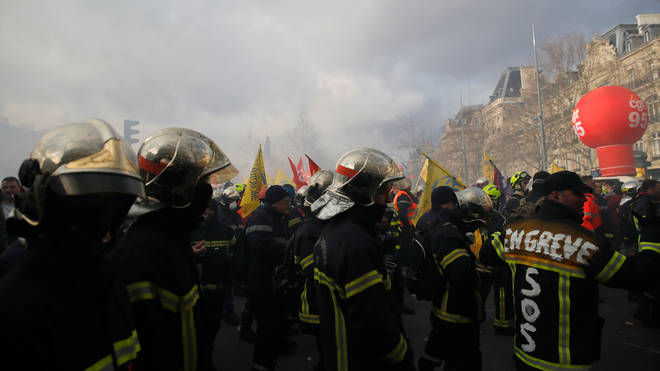 French firefighters have clashed with riot police on the streets of Paris amid a row over pay.
Huge crowds blocked the capital's ring road before marching through the city centre, where they clashed with officers.
Smoke bombs and firecrackers were launched amid the skirmish, with two firefighters seen being set on fire by a colleague before they were put out using a fire extinguisher.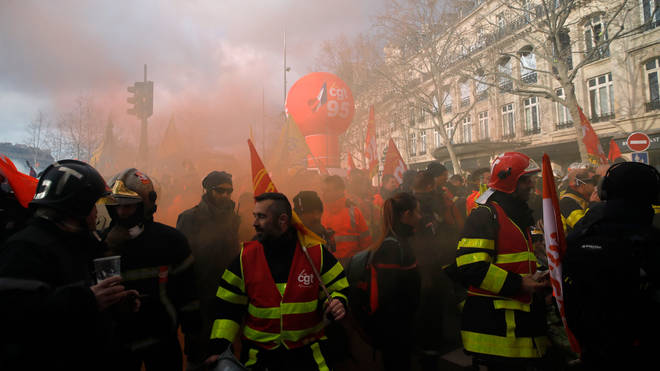 Police also blasted firefighters with water cannons as they gathered in Place de la Nation in the east of the capital.
The group is asking for an increase in their hazard bonus, which has not changed since 1990.
🔥 Deux pompiers se mettent symboliquement à feu pour protester contre la réforme des retraites.

Ces images sont fortes, elles sont graves aussi car elles en disent long sur la colère qui gronde. Mais le gouvernement n'entend rien.

Tous ensemble jusqu'au retrait ! 👊 pic.twitter.com/2ajIvDvKL4

— Eric Coquerel (@ericcoquerel) January 28, 2020
It is currently up to 19 per cent of their salary, but they are calling for it to be raised to 25 per cent.
Some protesters wore jackets bearing the slogan "métier à risques pris pour cible" - "risky business targeted" - in reference to the fact their profession is not recognised as dangerous, which negatively affects their wages and pensions.
French politician Eric Coquerel joined the protesters, and wrote on Twitter: "With the pompiers today!
"When they save lives or prevent Notre-Dame from burning, we admire them.
"But when they demonstrate for better working conditions, or when they refuse to have their retirement broken, they are abandoned by Macron!
He later added: "Two firefighters symbolically set fire to protest against the pension reform.
"These images are strong, they are also serious because they speak volumes about the raging anger.
"But the government does not hear anything. All together until withdrawal!"