Greta Thunberg in row with German rail operator over 'overcrowded' train photo
16 December 2019, 09:01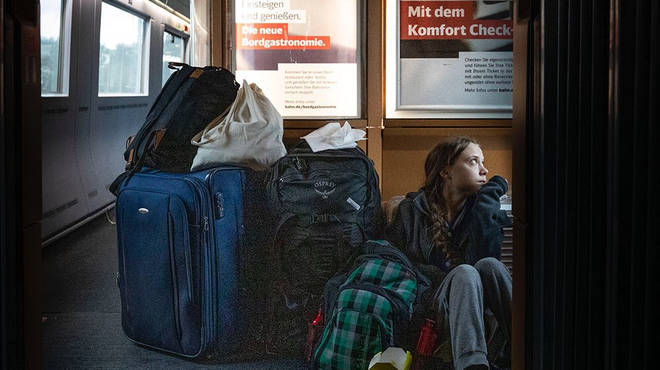 Eco-activist Greta Thunberg has been challenged by a German railway company after she tweeted a photo of herself sitting on the floor of a train surrounded by bags.
The 16-year-old drew sympathy from social media users after she pictured herself travelling on "overcrowded trains" on her way home from Madrid.
She said she was sitting on the floor because of an "overcrowded" service, but operator Deutsche Bahn replied suggesting she had actually been "taken care of" in first class.
Greta later admitted she did eventually get a seat and denied she was being critical.
In her message, she wrote: "Travelling on overcrowded trains through Germany. And I'm finally on my way home!"
The teen has become the face of the youth climate movement, drawing large crowds with her appearances at protests and conferences over the past year-and-a-half.
Ms Thunberg does not fly on planes because of the impact they create on the environment.
Responding, to her tweet German train company Deutsche Bahn welcomed her support "in the fight against climate change," and welcomed her on board.
But the company followed up with a second tweet, "It would have been even nicer," the company said, "if you had also reported how friendly and competently you were taken care of by our team in your seat in first class."
Ms Thurnberg then tweeted to say her train from Basel was taken out of service, "So we sat on the floor on 2 different trains. After Göttingen I got a seat. This is no problem of course and I never said it was. Overcrowded trains is a great sign because it means the demand for train travel is high!"
Deutsche Bahn has faced criticism in recent years for delays, last-minute train cancellations and expensive ticket fares.
The row comes after the teen apologised for saying politicians should be put "against the wall" after critics took it to mean that she was advocating violence.
The leading voice in the fight against climate change has also clashed with US President Donald Trump who hit out at her after she was announced as Time Magazine's youngest ever "Person of the Year."
Mr Trump said it was "so ridiculous," that she won before suggesting Greta "must work on her Anger Management problem."
The President added Ms Thunberg should "then go to a good old fashioned movie with a friend!"
Before telling the teen to: "Chill Greta, Chill."