Hong Kong chaos as protesters throw petrol bombs at police
20 October 2019, 18:16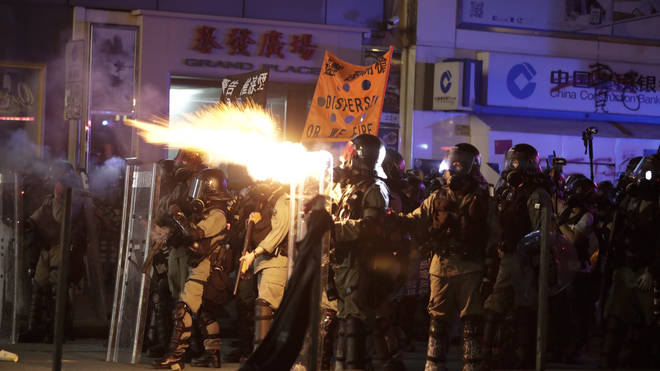 Protesters set up roadblocks and torched businesses on a main tourist street in Hong Kong as skirmishes with police reignited despite a banned march.
Unrest and violence has once again disrupted the semi-autonomous region with armed police responding to demonstrators with tear gas and a water cannon.
An unauthorised pro-democracy rally took place during which people wore banned face masks, carried flags and dressed in black uniform.
Security measures were introduced prior to the rally where roughly 24 people were injured and treated in hospital, with six being seriously hurt, according to the Hospital Authority.
Police have not given an official arrest figure.
Hong Kong has been marred by violent clashes for four months, triggered by expedition proposals that would have seen criminals sent to China.
Sunday's scenes were fuelled by an attack on pro-democracy campaigner Jimmy Sham who was attacked by five men with hammers in the Mong Kok district of Kowloon, leaving him in hospital.
Leaders of the demonstration carried a black banner at the front of the procession with the slogan "Five main demands, not one less."
Hong Kong has done it again.

The more China tries to crack down, the more determined the people of Hong Kong are to fight for freedom.

pic.twitter.com/bwNiYrMSek

— Joshua Potash 🆘 (@JoshuaPotash) October 20, 2019
They have called for greater police accountability and a strengthening of political rights due to anxieties felt regarding China's autonomy over the city.
Colonial and US flags were waved as well as placards depicting the Chinese flag as a Nazi swastika.
A water cannon truck and armoured car led dozens of police vans along Nathan Road, a major street lined with shops, to spray a blue dye at protesters.
This tactic has been used to identify people at a later time so they can be arrested.
In a controversial incident, a mosque was sprayed by the water cannon with some people nearby being hit.
Local broadcaster RTHK reported that people were guarding the mosque from nearby protesters.
The Hong Kong police force said it was an "unintended impact" of its operation to disperse protesters and later sent a representative to meet the mosque's imam.
As night fell, activists returned to the streets setting fire to ATMs, a shop selling products from Chinese smartphone maker Xiaomi and branches of mainland Chinese banks.
Police were forced to use a bomb disposal robot to blow up a cardboard box with wires coming out of it.