Dog rescued after tumbling down cliff near Melbourne
20 October 2019, 17:17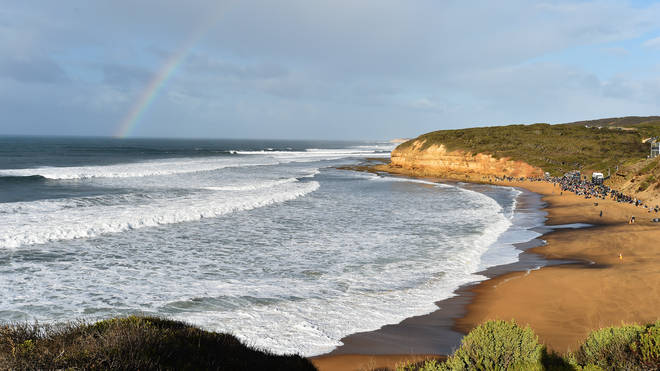 Emergency services workers have rescued a stranded dog named Jimmy who fell down a cliff on Australia's Great Ocean Road.
People walking along Bells Beach, Victoria, which lies on the tourist hotspot, noticed the black and white pooch perched upon a narrow ledge about halfway down the cliff.
The border-collie escaped from his home at around 12:30pm on Sunday (local time) much to the "surprise" of his owners.
Australia's Country Fire Authority and State Emergency Services responded to calls from worried onlookers.
CFA Commander Mark Sinkinson said Jimmy's owners were unaware that he was missing and did not know how he managed to escape.
He added: "We're not sure how or why the dog got out but it was pretty happy to be back up in the car park.
"It took about an hour. We had to negotiate through some scrub to start with [but] he was very happy to get in with our crews and come up again."
The rescue team used ropes attached to a truck to lower an officer down to the pup.
Jimmy's tail began wagging excitedly when he realised he was being rescued, before he was put into a harness and raised to the cliff top using a hoist.
Mr Sinkinson said it was a good opportunity for his team to get some practice in for similar situations involving people.
"It was a good training drill … because we have had scenarios where we've had people rescued here from the cliffs in this area," he said.
"It was good to be able to put it into practice and get Jimmy back up."
A dynamic risk assessment was carried out prior to the rescue to ensure the drill would be safe for the team.
When Jimmy reached the top of the cliff he was on his best behaviour and was miraculously uninjured despite the fall.