Rose McGowan says Weinstein verdict is a 'huge victory'
25 February 2020, 11:21
Rose McGowan has given a powerful interview following the Harvey Weinstein verdict.
The actress revealed she was "shocked" by the court's decision, telling Good Morning Britain: "I'm still in shock, to tell you the truth.
"I was really expecting to have to deal with a flood of 'Is this the end of Me Too' [if he had been found not guilty]…
"I'm kind of spun right now, but I can tell you the young girl I was, is giving a high five to the woman I am today.
"What this shows, is that the old ways of treating rape victims on the stand in trial by slut shaming them… but now thankfully juries will start to see through it."
Her comments come as Weinstein awaits his sentencing for rape in the third degree and sexual assault.
Speaking to Susanna Reid and Bill Turnbull, she said: "This is a huge victory for all of us who have ever been hurt…It's a huge moment and it's one, I have to honestly say, I thought he was going to be exonerated.
Today is a powerful day & a huge step forward in our collective healing

— rose mcgowan (@rosemcgowan) February 24, 2020
I'm proud of the brave women who testified, they have taken out a monster on earth. Thank you to the prosecutor & jury who said not one more. Thank you to the public for examining things more deeply. I can finally exhale

— rose mcgowan (@rosemcgowan) February 24, 2020
McGowan also spoke about the "fear" Weinstein had instilled in her for years.
She told GMB: "He very much came after me, he and his giant machine of other monsters.
"I wonder if he gets convicted if he will hire a hitman to get me?… These are just casual thoughts in my life. That's why it's so wrong and sick. That's why I've fought so hard for this to stop.
"The reason we fight is not just personal but the greater cultural reset that I was looking for."
Asked if she felt there were more victims out there, she replied: "Yes… he had a full machine set up only to rape.
"Movies, that was his living, but there was a rape factory - that's what the business was behind the scenes…
"It's the kind of human-trafficking that goes on. It goes on in Hollywood and the rest of the world… it's in high levels of society and low levels."  
Talking about whether a sentence of 29 years behind bars was long enough, she concluded: "For me, personally, I would just rather he ceased to exist. The world would be better off but I am happy there is one less serial predator on the streets… It's an incredible moment…
"It's an overwhelming amount of emotions. Just this kind of flood gates of stress that are just starting to recede after being so high for so long. [But] This whole thing is a tragedy. None of this had to happen."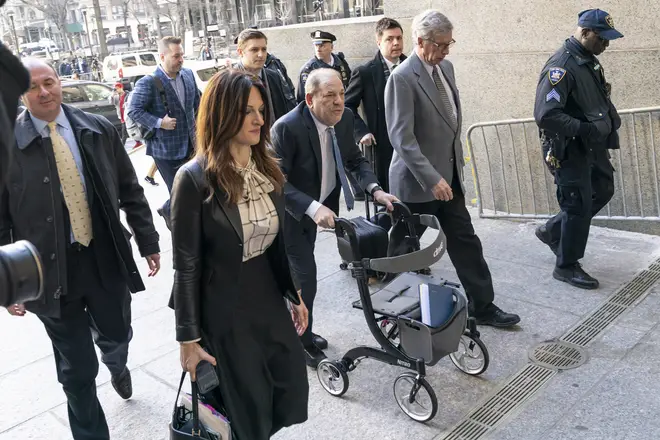 On whether this was the end of the journey, she explained: "There will be the LA trial and the court sentencing here is on March 11th. It's a never-ending situation. I wish it would end but this is an unbelievable achievement.
"Just to simply have a woman - who has been raped by somebody - be in a court pointing at their accuser saying, 'You did this to me', that is a privilege because that is incredibly rare. There is a 2% conviction rate in almost all rapes.
She admitted she hoped to speak in court about what happened to her: "There is a statute of limitation, so I will never have that kind of day in court…"
But she added she hoped to take part in the court proceedings, explaining: "I don't know if it's as a witness… but I would be able to [speak in court]."