Trump's lawyer Rudy Giuliani will not comply with subpoena
15 October 2019, 22:26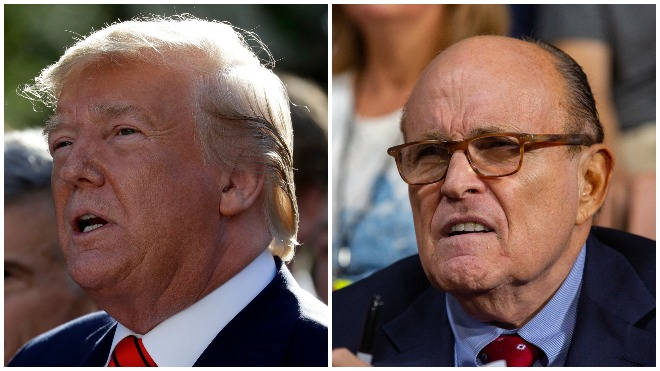 Donald Trump's personal lawyer has told politicians he refuses to comply with a subpoena issued in the president's impeachment inquiry.
Jon Sale, an attorney for Rudy Giuliani, called the impeachment inquiry "unconstitutional and baseless" and said the subpoena is "overbroad, unduly burdensome, and seeks documents beyond the scope of legitimate inquiry."
The president's lawyer was set a Wednesday night deadline by Democrats to supply the documents required for the subpoena.
It is unclear how opposition politicians would respond to the refusal.
When asked what would happen if the Democrats chose to enforce the subpoena, Trump's attorney said, "we will see what happens."
I will not participate in an illegitimate, unconstitutional, and baseless "impeachment inquiry."

Jon Sale, who is a lifelong friend, has represented me for the sole purpose of analyzing the request and responding. At this time, I do not need a lawyer. pic.twitter.com/l0IR0ikEHD

— Rudy Giuliani (@RudyGiuliani) October 15, 2019
Mr Giuliani played a role in the attempt to get Ukrainian officials to investigate Trump's Democratic rival Joe Biden, according to text messages and the testimony of witnesses.
Two of the lawyer's business associates who had been helping him in his Ukranian venture were arrested last week on campaign-finance charges.