Brit tsunami victim died on Tongan beach trying to save her dogs, brother reveals
17 January 2022, 07:52 | Updated: 17 January 2022, 15:02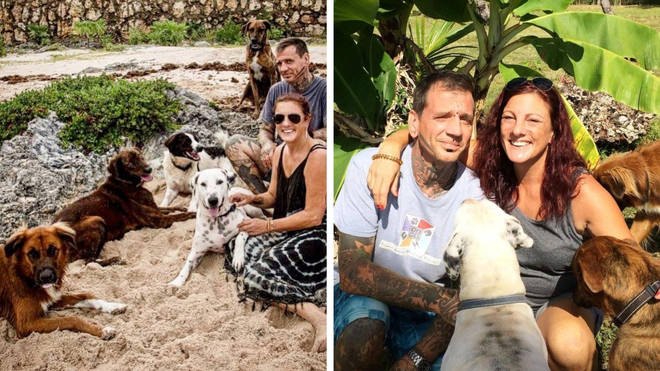 A body has been found in the search for a British woman swept away by a Tsunami that struck Tonga, her brother said today.
Angela Glover, 50, was washed away from a beach on the island with her husband, James Glover, and "four or five" dogs.
Her brother Nick Eleini confirmed the sad news today saying he understood Angela's husband had been involved in the search when her body was found.
In a statement paying tribute, he said: "Angela has always had a deep love of dogs and started an animal welfare charity.
"I understand this terrible tragedy came about while they were trying to rescue their dogs.
"Angela and James loved their life in Tonga and loved the Tongan people. In particular, they loved the Tongan family and Tongan culture."
He said the family is "devastated" and has asked for time for the family to grieve.
Hours before she was swept away she posted online: "I'm not kidding you.... this is the sunset today after the volcano exploded last night. We've been under tsunami warnings today...
"Everything's fine... a few swells ....a few eerie silences...a wind or two...then silence...sudden stillness... electric storms.... everything looked like I was watching thru an Instagram filter."
A week ago she posted: "NAILED IT! 5 dogs and 2 humans. The Glover and KRAYS family photo"
A search is under way for her, but her brother says he does not expect her to be found alive.
Angela's husband was able to cling on to a tree, but, she was swept away with the animals.
The pair had been house sitting on the west coast of Tongatapu - the main island in Tonga - Ms Glover's brother, Nick Eleini, told The Guardian.
Following the incident, Mr Glover returned to the couple's house on the south coast of the island, contacting the police and the British embassy there, he said.
However, the family are still awaiting further updates on the search for Ms Glover, with Mr Eleini saying not knowing was "excruciating".
Read more: Gavin Williamson 'lined up for a knighthood' as PM tries to 'buy his silence'
Read more: Five-year-old British girl 'killed by skier in Alps' in horror crash
Mr Eleini said: "What are we, 48 hours later? I don't think this is going to have a happy ending."
He added: "It's excruciating. I can't even believe the words are coming out of my mouth, to be honest."
Mr Eleini later told 1News in New Zealand: "I think it's going to be a body recovery rather than finding her. But I'm hoping, you know, it's all I can do."
The UK Foreign Office said it was "supporting the family of a British woman reported missing in Tonga and are in contact with the local authorities".
The couple have been living in Tonga since 2015, where they run their own animal rescue centre.
Before moving, Ms Glover had been working in advertising and Mr Glover was running his own tattoo parlour.
Read more: Tsunami warning issued for USA after underwater volcano erupts in Tonga
The Red Cross has warned the scale of the devastation on Tonga could be 'immense' after this weekend's huge underwater volcanic eruption in the South Pacific caused a tsunami to crash over the island.
Contact hasn't yet been made with areas beyond its capital. 80,000 people are understood to have been impacted by the natural disaster.
The Tonga Meteorological Services said a tsunami warning was declared for all of the archipelago, and data from the Pacific tsunami center said waves of 2.7 feet were detected.
Across the Pacific on California's central coast, the National Weather Service reported tsunami waves up to 4 feet (1.2 meters) and flooding in beach parking lots at Port San Luis.
The waves crossed the Pacific, drowning two people in Peru and causing minor damage from New Zealand to Santa Cruz, California.
New Zealand and Australia have since sent military surveillance flights to Tonga to assess the damage, with a towering ash cloud following the eruption preventing flights from leaving earlier.
Essential supplies, including drinking water, will be sent over on Tuesday, while communications with the country remain extremely limited.
No casualties have been reported on Tonga, although there were still concerns about people on some of the smaller islands near the volcano.
The full extent of the damage on the Pacific islands remains unclear - but a number of people are known to be missing.